ZTE intros 'cloud laptop' that draws just five watts of power
The catch: It hooks up to desktop-as-a-service and runs Android – so while it looks like a laptop ...
Chinese telecom equipment maker ZTE has announced what it claims is the first "cloud laptop" – an Android-powered device that the consumes just five watts and links to its cloud desktop-as-a-service.
Announced this week at the partially state-owned company's 2022 Cloud Network Ecosystem Summit, the machine – model W600D – measures 325mm × 215mm × 14 mm, weighs 1.1kg and includes a 14-inch HD display, full-size keyboard, HD camera, and Bluetooth and Wi-Fi connectivity. An unspecified eight-core processors drives it, and a 40.42 watt-hour battery is claimed to last for eight hours.
It seems the primary purpose of this thing is to access a cloud-hosted remote desktop in which you do all or most of your work. ZTE claimed its home-grown RAP protocol ensures these remote desktops will be usable even on connections of a mere 128Kbit/sec, or with latency of 300ms and packet loss of six percent. That's quite a brag.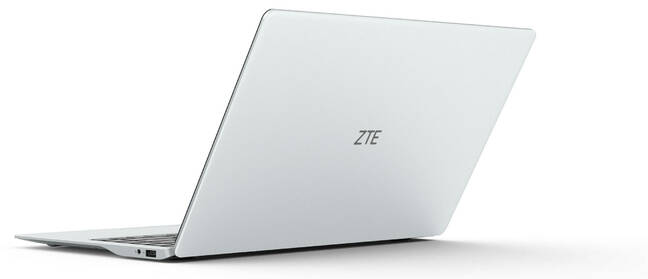 ZTE's rendering of its W600D 'cloud laptop'
As such, the machine is basically a client end-point connected to ZTE's uSmart cloud PC service, and this is suggested for use in almost any setting – most especially when multiple users share a physical machine at home or work.
ZTE already has a cloud PC on the desktop – the W100D, a pack-of-cards-sized device similar to Alibaba's Wuying device.
Alibaba released its virtual computer earlier this year. The Wuying is designed for use with Alibaba Cloud and is available in Singapore or China. Alibaba also suggests its cloudy client device as an option for consumers or businesses.
Desktop-as-a-service is seldom offered to consumers, anywhere. Now two of China's mightiest tech outfits think the nation has an appetite for such services and accompanying devices.
ZTE may struggle to find a market for the W600D outside China, given the company is so distrusted in the US that the FCC will literally reimburse medium and small carriers (or at least promise to, when there's enough money) who remove and replace the company's products.
This does not mean China's PC market is terminal, but it could mean terminals will take a chunk of China's PC market. ®