Trouble hiring? Consider loosening your remote work policy
We're going hybrid or off-prem to retain and lure staff, say polled managers
For bosses suffering the effects of the Great Resignation, IT decision makers taking part in this survey have a suggestion: go remote and you won't have any trouble hiring people.
That's the overall message from Foundry's 2022 Future of Work study, which examined the pandemic's impact on workplaces and how businesses plan to answer the big question on everyone's minds: do we stay remote, return to the office, or try some mutant hybrid approach of the two?
"[Pandemic-era changes] proved largely successful and once all the benefits of working from home became apparent, businesses began to rethink the structure of how their entire company works," said Foundry research manager Stacey Raap.
Offering remote work is having a positive effect on hiring, though Foundry's report is hardly the first to acknowledge such a link. According to Foundry, 42 percent of its survey respondents said the work-from-home shift has made it easier to recruit for open positions. That number jumps to 64 percent for companies that have committed to remaining permanently remote.
Some organizations that have chosen to insist on a return to the office have been roundly criticized, even having to revise plans or cancel them altogether when faced with employee revolt.
"All signs point to the hybrid model as the future of work," the study concluded.
Seventy-two percent of respondents said there had been a positive shift in their organization toward supporting remote work; 69 percent said it's caused them to change how they plan office space and staffing; and 62 percent said they considered revising processes and workflows to account for pandemic-era changes.
In addition to boosting employee morale and easing hiring woes, remote work has also been a boon for IT equipment giants, such as Dell, which have seen infrastructure purchases continue to increase. Foundry reports similar findings, with businesses increasing spending in security and network infrastructure needed to maintain a remote workforce.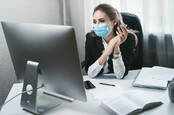 Back-to-office mandates won't work, says Salesforce's Benioff
READ MORE
Most people are happier working in their slippers it seems, but a switch to permanent remote work is opening up a few new issues, Foundry found. Thirty-two percent of respondents said they were concerned about "proximity bias" that could leave remote workers with worse odds of career advancement over their face-to-face colleagues. 
Morale and burnout issues were also cited as problems by 47 percent, and 16 percent said they were worried hybrid or remote work could have a negative impact on diversity, equality, and inclusion efforts. 
As for the other big ask in the business world right now – the four-day workweek – Foundry said workers in the US, where most of the responses came from, shouldn't get their hopes up. Unlike our informal poll that found 84 percent of Reg readers support the four-day workweek, 60 percent of Foundry's respondents dismissed it completely. ®