This article is more than 1 year old
Running DOS on 64-bit Windows and Linux: Just because you can
DOS isn't dead. You can still run it and its apps, even now
FOSS Fest There are still ways to run DOS apps under 64-bit Windows and Linux, and a lot of free apps to choose from.
One of the differences between the Microsoft and Apple approaches to maintaining widely used OSes is that Apple is quite aggressive about removing backwards compatibility, while Microsoft tries hard to keep it.
One of the few times Microsoft removed a whole compatibility layer from Windows was with the launch of 64-bit Windows, which went mainstream with Vista in 2007. 64-bit editions of Windows can't run 16-bit apps, whether they're for DOS or Windows.
Enterprising developers, of course, take this kind of thing as a challenge.
There are obvious ways round this, of course. You can run DOS in a virtual machine. It works fine – the problem is that it's very difficult to get anything in or out of it. Modern PCs are also so vastly more powerful than they were in DOS' heyday of the 1980s that you just run a PC emulator, such as DOSBox or the enhanced DOSBox-X.
These programs emulate an entire PC, so you can run games that require long-obsolete hardware such as SoundBlaster cards. DOSBox-X even supports Windows 3.x and Win9x.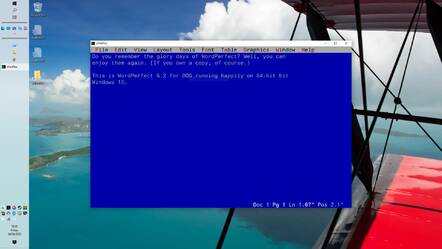 The last ever version of WordPerfect, 6.2, also runs very nicely under vDosPlus
But a whole-system emulator is overkill if you just want to run some DOS productivity apps. A long-standing way to just open a simple DOS prompt on a Windows 64 machine is Jos Schaars's vDos, and it too has an enhanced cousin, vDosPlus.
A popular use for vDosPlus is to run the original DOS WordPerfect, as documented on Edward Mendelson's very helpful WordPerfect for DOS page.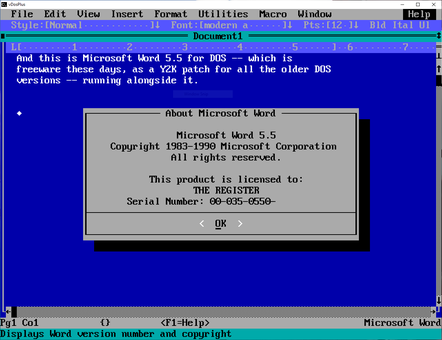 Microsoft Word 5.5 running under vDosPlus on 64-bit Windows 10 works just as well as it ever did
Most Linux distros used to include DOSEMU, which is one of the oldest Linux apps around, dating back to 1992.
Despite its name, it's not an emulator: it's a sort of dedicated VM for running actual DOS under Linux. This has two benefits: one is that DOS apps can access real hardware, such as devices attached to a physical parallel port. The other is that whatever you run executes at full native speed, which on any 21st century PC is blazingly fast by DOS standards.
Conveniently, DOSemu can map DOS drive letters to Linux directories, including on the fly with the LDREDIR command, so it's much easier to get things in and out of the DOS app than it is a full virtual machine.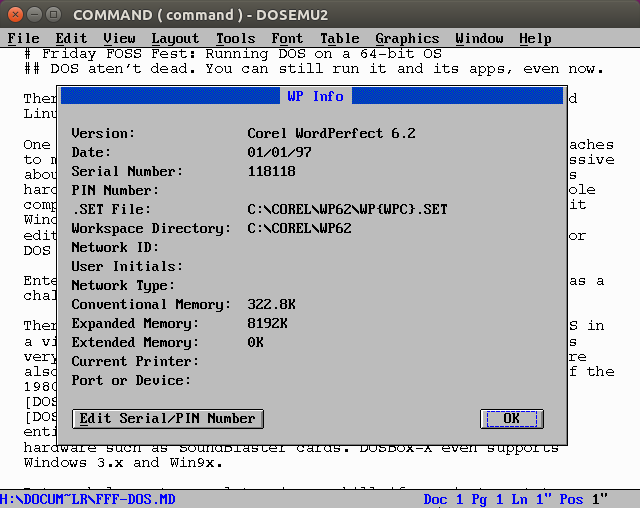 Unfortunately, the V86 mode of the x86-32 architecture has been removed from x86-64, so now it must be emulated, and possibly as a result, many distros have now dropped the trusty DOSemu along with x86-32 support. But don't panic, because a new team has taken over maintenance of the venerable program, and although unfinished, DOSemu2 is getting very usable, and the project offers ready-made packages for Ubuntu, Fedora, and openSUSE.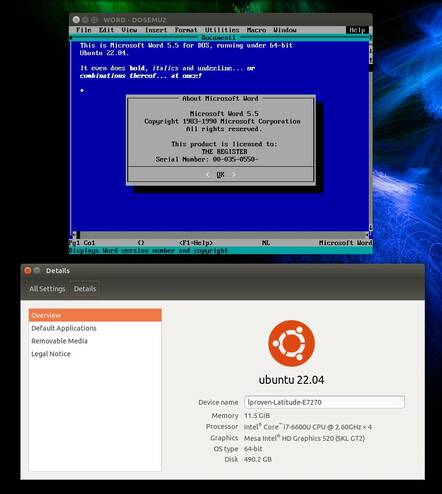 Word 5.5 also runs fine under dosemu2, here shown on the latest 64-bit Ubuntu
Multiple sets of instructions are available for dosemu2, including a set from the industrious Professor Mendelson and another from überhacker Tavis Ormandy.
An excellent source of DOS freeware is the FreeDOS Repo. For instance, it has MS Word 5.5, WordPerfect Editor (the freeware plain-text editor version of the famous app), Protext, and more. ®