This article is more than 1 year old
HPE unveils Arm-based ProLiant server for cloud-native workloads
Looks like it went with Ampere's Altra and Altra Max processors
Arm has a champion in the shape of HPE, which has added a server powered by the British chip designer's CPU cores to its ProLiant portfolio, aimed at cloud-native workloads for service providers and enterprise customers alike.
Announced at the IT titan's Discover 2022 conference in Las Vegas, the HPE ProLiant RL300 Gen11 server is the first in a series of such systems powered by Ampere's Altra and Altra Max processors, which feature up to 80 and 128 Arm-designed Neoverse cores, respectively.
The system is set to be available during Q3 2022, so sometime in the next three months, and is basically an enterprise-grade ProLiant server – but with an Arm processor at its core instead of the more usual Intel Xeon or AMD Epyc X86 chips.

Face-on view of an HPE ProLiant RL300 Gen11 ... Source: HPE
This being HPE, the new server will also be available for purchase or through HPE's "pay-as-you-go" GreenLake subscription service.
Those enterprise-grade features mean that the ProLiant RL300 Gen11 has HPE's Integrated Lights-Out (iLO) remote management capabilities and Silicon Root of Trust embedded security, as well as the reassurance of support from a tier-one hardware supplier. HPE also said it is offering support for customers using the OpenBMC open-source project for the motherboard management controller. The system should be able to run Linux and any other Ampere-compatible OSes.
"This is a good step for Arm as it does mean major enterprise OEM support," said Andrew Buss, IDC's research director for European enterprise infrastructure.
"It's also timely, as it comes alongside the release of Arm-native tools from Microsoft that will help expand the capabilities of the ecosystem, as well as dovetail with the availability of Arm instances in the public cloud," he added.
HPE's EVP and general manager for Compute Neil MacDonald said that the ProLiant RL 300 Gen 11 has been "designed for cloud native" across a range of workloads, including the needs of service providers and digital-first enterprises.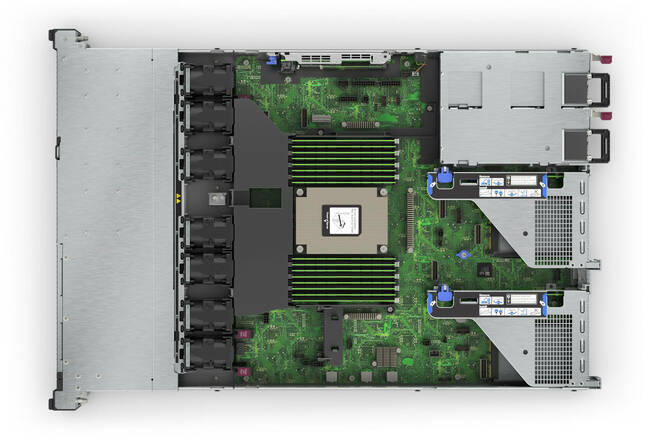 Inside an HPE ProLiant RL300 Gen11 ... Source: HPE
Such organizations are facing challenges of tight budgets and space constraints, but also power costs and meeting sustainability goals, he claimed, which is where the company sees its Arm-based portfolio fitting in.
The ProLiant RL 300 Gen 11 is a single-socket 1U server with 16 DIMM slots for a maximum memory capacity of 4TB per system, and space for up to 10 NVMe SSDs and dual M.2 NVMe SSD options to support workloads calling for high performance storage. As well as three PCIe 4.0 slots, there are also two OCP 3.0 slots [PDF], a compact slot for a network interface card specified by the Open Compute Project.
This isn't HPE's first Arm-based server; the Apollo 80 ships with eight single-socket servers inside a 2U chassis, all based on the high-performance Fujitsu A64FX chip, while HPE previously offered Arm-based cartridges for its "Moonshot" high-density server platform about a decade ago.
But those are somewhat specialized systems, while the ProLiant RL 300 Gen 11 is aimed squarely at the mainstream, or at least the part of the mainstream that is adopting "cloud native" workloads.
"The ProLiant RL300 Gen 11 server is engineered to deliver high performance, high core count, and energy efficiency for a wide range of cloud-native workloads, including common ones such as web servers, memory caching, and data streaming," a HPE spokesperson told us.
This focus on "cloud-native workloads" could be seen as a tacit admission that the ProLiant RL300 Gen 11 is not going to be running the legacy Windows-based applications and services that many enterprise organizations are still highly dependent upon, but it is still a rapidly expanding sector of the market, according to HPE.
"These cloud native workloads that we are supporting for service providers and digital-first enterprises, while they do not make up the majority of the market, this segment of the market is growing very quickly," the company told us. "The new HPE ProLiant RL300 Gen11 server expands our existing portfolio to offer a choice that specifically meets the unique needs of those customers focused on cloud native workloads."
Omdia chief analyst Roy Illsley agreed that existing X86 workloads are not likely to be migrated to Arm.
"This is about having products that will work with the new workloads where lower power and by association lower carbon footprint, is a critical factor," Illsley said, adding "we think a lot of this will be at the edge."
If this sector of the market does prove fruitful, then HPE may have stolen a march on its rivals, as no other major vendor appears to be planning mainstream Arm-based server systems.
"For Arm this is big, as Dell has no plans, that is the response I got when I asked the question at Dell Tech World this year," said Illsley. Dell, like HPE, did experiment with Arm-based systems about a decade ago but eventually allowed that project to quietly die.
Renée James, Ampere's founder and CEO, emphasized the importance of the power efficiency behind the Altra and Altra Max processors.
"You cannot have countries saying no more datacenters because you can't take any more power. You can't meet your ESG goals unless you improve the power performance ratio. That is the design philosophy of Ampere. It is a general purpose microprocessor. It runs Windows, it runs Linux, it does everything," she said.
What it is not designed for is legacy applications, she conceded, but added that Ampere had worked hard on things like database performance. Lots of customers have deployed Ampere's products into different datacenter environments, and benchmarks are available on the company's website to demonstrate its effectiveness.
"Cloud native processors mean that we can run other stuff, but we're very focused on delivery for where customers are going today," she said. ®