Taiwan creates new challenge for tech industry: stern content regulation laws
Big tech asked to be more transparent by logging what it took down and why
Taiwan's concentration of tech manufacturing capability worries almost all stakeholders in the technology industry – if China reclaims the island, it would kick a colossal hole in global supply chains. Now the country has given Big Tech another reason to worry: transparency regulations of a kind social networks and surveillance capitalists detest.
The regulations – named the Digital Intermediary Service Act and released as a draft yesterday by Taiwan's National Communications Commission – require platform operators to create a complaints mechanism anyone can use to request content takedowns, remove illegal content at speed, undergo audits to demonstrate they can do so, and respond promptly to orders to remove content.
When platforms decide to take down content, they'll need to list each instance in a public database to promote accountability and transparency of their actions.
Transparency of algorithms used to determine ad placements is another requirement.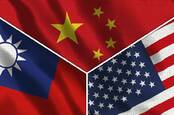 US, Europe move to secure access to Taiwanese tech
READ MORE
Taiwanese and foreign businesses will all have to comply.
Taiwan's motive for the Act is a desire to create a better regulated internet and make big platform companies visibly accountable for their actions.
That matters, for the usual reasons around stopping Big Tech polluting your polity. It may also help Taiwan to defend against Chinese interference in its affairs. Taiwan's internet is open, and major social networks are accessible and popular – to citizens and those who conduct foreign influence operations. If Taiwan gains a way to better detect and delete material felt to be the work of Beijing-backed mischief-makers, the Act could be very handy.
Big Tech has already noticed the draft. Lobby group The Asia Internet Coalition – which lists Google, Facebook, Apple, Twitter and LinkedIn on its membership roster, among many others – today issued a statement [PDF] in which managing director Jeff Paine said the org will consider the draft and provide feedback "that we hope will result in policies that support the growth of Taiwan's digital economy."
That's typical language for the Coalition, which almost invariably finds that any regulations that impact its members represent a threat to the digital economy and investment in tech industries.
Taiwan can probably shrug off such threats, as the world is deeply, deeply, invested in the success of its tech companies. If life becomes a little harder for Big Tech when it targets Taiwan's 24 million residents with online services, the industry's utter dependence on the island's output won't end – even if the Act dents bottom lines a little.
The Act will next be pondered by Taiwan's parliament, which is enthusiastic about the prospect of better regulation but has much work to do before the draft becomes law. ®