This article is more than 1 year old
Nexperia talks up its investment in UK wafer fab, says no plans to close
Customers 'becoming impatient' to get 'clarity' on the matter, says exec
Nexperia has expressed frustration with the UK government's probe into its takeover of Newport Wafer Fab – ongoing since last year – saying the company has invested money into the plant and needs a swift decision.
The NXP Semiconductor spinoff insisted that it was not planning to shut down the plant or move operations abroad.
Newport Wafer Fab is the UK's largest semiconductor facility, and one of the few such facilities still left in the country. It was acquired last year by Dutch company Nexperia in a deal worth £63 million (c $75 million).
However, Nexperia was spun off from parent firm NXP Semiconductor and then sold to Chinese outfit Wingtech Technology, where it is now a subsidiary. For this reason, the UK government announced a rather belated review into the takeover in May this year – on the grounds of national security. The Department for Business, Energy & Industrial Strategy (BEIS) is running the investigation, using powers it gained under the National Security and Investment Act 2021 [NSIA].
Giving evidence to the BEIS Committee, Nexperia's UK country manager Toni Versluijs said legislation such as the NSIA is not uncommon in an international context, that other countries have such laws, and that Nexperia understood that matters of national security need to be investigated.
However, he said the "investigation needs to be done swiftly", claiming that Nexperia's customers "are becoming impatient on the clarity" over the matter.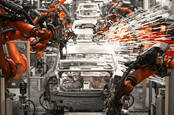 NXP Semiconductors talks chip supplies, future car networks
READ MORE
He also cited the effect the uncertainty was having on the company's employees at the Newport facility. "Last week, a young lady in Newport stepped into the office of a general manager. And she said, 'Look, I just bought a new house. After this review, will I still have a job?' I think it's in everybody's interest to give clarification."
The British government was scheduled to decide on the fate of the sale yesterday but business secretary Kwasi Kwarteng asked for an additional 45 days to review the agreement. He may then block the deal, press for solutions to concerns or approve it.
At the BEIS meeting, Versluijs also claimed there had been a lot of disinformation about the takeover, and that Nexperia had actually saved the Newport Fab from bankruptcy.
"If you look at the facts, then Nexperia saved, actually, Newport from bankruptcy. I mentioned already the £160 million [about $190 million] investments by the way, no strings attached for any additional government support on that," he stated.
When questioned about the supposed loss of a compound semiconductor production line at Newport, Versluijs claimed this was part of the disinformation.
"There has been raised the illusion that there was a compound semiconductor open access fab. Such a fab did not exist and does not exist. There were plans that were ambitious. And I think the possibility to realize those plans and those ambitions still exists through an option that we have given to the previous owner of Newport to establish such an activity," he said.
When asked about speculation that Nexperia planned to close the fab and move operations abroad, Versluijs denied this.
"We're not planning to shut any operations. We've been in the UK on the site in Stockport for more than 50 years, we've been in Hamburg for more than 50 years, we invested big time in Manchester, we invested big time in Newport, created jobs, we are here to stay, we want to work in the local ecosystem, and enable the local ecosystem and the UK semiconductor industry to be successful," he said.
Versluijs also said there could be more effective mechanisms for companies like his to work with the government.
"We could think for instance about a task force or a champion within the government who looks after semiconductors. From a company point of view, you always would like to have one point of access and one point of address, as it will facilitate the speed that we talked about earlier."
In May, reports suggested that the UK government was considering unpicking the sale of the Newport Wafer Fab to Nexperia, which the NSIA legislation may allow it to do, and potentially selling it to a US-based consortium instead.
However, as was pointed out at the time, the fab currently produces chips using a 200nm production process that is far from the cutting-edge, and it may not be considered a vital enough asset for such drastic steps. ®