This article is more than 1 year old
Vodafone picks Google for MLops project that self-serves models in minutes
Teradata, Oracle Cloud still play a role in carrier's data-wrangling plans
UK telecoms giant Vodafone is deploying an MLOps service within the organization, with the help of Google Cloud.
Called AI Booster, the project is designed to automate and standardize building and distributing machine-learning models within the carrier.
Over the past 18 months Voda has employed Google tools BQML, AutoML, and Vertex AI as well as working with Google Cloud partner Datatonic.
Vodafone AI Booster product manager Sebastian Mathalikunnel said: "Our overarching vision was a single ML platform-as-a-service that scales horizontally in business use cases across markets and vertically from proof of concept to production."
He said the Vodafone team has completely automated ML lifecycle compliance activities such as drift and skew detection, explainability, and auditability with the use of reusable pipelines, containers, and managed services. The approach has also embedded security by design into the heart of the platform.
Users simply complete an online form, and within minutes they receive a fully functional AI Booster environment with all the right guardrails, controls, and approvals.
Vodafone began working with Google Cloud in 2019 to build a data platform, called Nucleus. "Instead of reconciling between different data warehouses, as we did in the past, we have established a single source of truth, making data accessible across our organization," Osman Peermamode, Vodafdone's head of data and analytics, revealed in a blog earlier this year.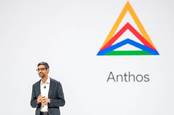 Google recasts Anthos with hitch to AWS Outposts
MEANWHILE
Vodafone is one of the largest telecommunications companies in the world. Although it has built a relationship with Google for its data platform, it also has a long-standing relationship with data warehouse company Teradata – a least in Germany.
According to a report on comms-centric news site Telco Titans, that relationship is expanding to Italy, Spain, the UK, Czech Republic, Ireland, and to the VodafoneZiggo joint venture in the Netherlands.
"It appears likely that the new Vantage deployment will end up running primarily over Google Cloud Platform, which in 2019 Vodafone flagged it was transitioning to as its preferred cloud infrastructure platform for data analytics," the report predicts.
Google and Vodafone have been contacted for additional comment.
Meanwhile, Google is not the only cloud provider on which Vodafone relies. It uses an Oracle Cloud Infrastructure Dedicated Region to run critical workloads while retaining data and service control.
According to Vodafone, Oracle Cloud will be supporting applications that underpin customer care, digital, sales, billing and provisioning systems.
"We use GCP/Big Query, and will continue to do so, in our Analytics domain and to support our Big Data systems, whilst OCI will have the objective of supporting the running of our transactional systems that leverage Oracle technology," the company told The Register. ®