This article is more than 1 year old
Panasonic picks Kansas for $4b EV battery plant
Tesla's biggest battery supplier will reportedly hire 4,000 staff
Kansas has landed the largest economic development project in its history, with Japanese tech giant Panasonic set to build a $4 billion electric vehicle battery plant in the state.
Panasonic, which supplies most of Tesla's EV batteries, will build its new battery plant in De Soto, a town on the western edge of the American city's metropolitan area.
Once finished, the factory will employ an estimated 4,000 people; with Wichita State University predicting an additional 4,000 jobs will be created among local businesses supporting Panasonic's operations. The university claimed the project would also create 16,500 construction jobs.
It's no surprise that Panasonic picked Kansas, the state is already ranked second in the US for employment in the battery manufacturing sector, according to its department of Commerce. 
In addition to its presence in the battery industry, the state was also keen to talk up its Attracting Powerful Economic Expansion, or APEX, bill, which was signed into law earlier this year. When APEX was passed in February, Kansas Governor Laura Kelly admitted the bill was broad, but said it was created with a particular company in mind, though at the time wouldn't say who.
Local news reports speculated that APEX was written to attract Panasonic, who was allegedly going to build a plant near De Soto, but the Kansas administration remained tight-lipped: Governor Kelly only said "it's an incredibly reputable company."
Also mentioned in February was the economic boost the mystery company would bring: 4,000 jobs and $4 billion in investments, the same figures announced along with today's Panasonic deal.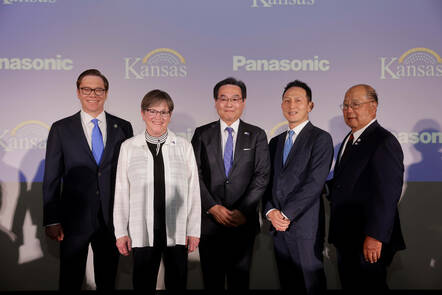 Kansas governor Laura Kelly and Panasonic officials
Oklahoma was also fighting to attract the Panasonic factory: it created a $698 million incentive package and a 3.4 percent, five-year rebate deal on capital expenditures however it wasn't enough to sway the battery maker to set up shop in the Sooner State, which borders Kansas to the south.
Autopilot boss drives away
Tesla's head of AI and Autopilot is leaving the EV maker after five years, giving no immediate reason for his departure. 
Andrej Karpathy had been with Tesla since 2017 and oversaw its computer vision teams responsible for Autopilot and groups responsible for data labeling and deployment of Autopilot. Karpathy announced his resignation in a series of tweets yesterday, describing his time at Tesla as a great pleasure. 
Karpathy said his time with Autopilot saw it graduate "from lane-keeping to city streets and I look forward to seeing the exceptionally strong Autopilot team continue that momentum."
The deep learning engineer had been on sabbatical since March for undisclosed reasons. He mentioned traveling, resting and resharpening his "technical edge" as reasons for this; it doesn't appear he had returned to work before announcing his departure. 
Tesla's Autopilot has been under scrutiny of late: It's involved in 70 percent of driver assist crashes, and the US NHTSA recently upgraded its probe of Autopilot, potentially leading to a recall of over 1 million vehicles.
Panasonic also manufactures batteries in Nevada for Tesla, and it's not the only company to make investments in US battery production recently. Hyundai Motor plans to build an EV battery factory in Georgia, while General Motors and Korean tech company LG plan to build a battery assembly plant in Michigan. Pansonic's De Soto factory will also be used to research future EV technology, the Kansas department of Commerce said.
While the Panasonic deal has been approved by Kansas, its board of directors still needs to give its blessing for the project to go forward. Panasonic shifted nearly $5 billion to EV batteries and other next-gen tech in April, and Panasonic Energy CEO Kazuo Tadanobu described expanding US battery production as "critical to help meet demand." 
EV sales in the US continue to be only a small percentage of total vehicles sold, but recently crossed the 5 percent threshold, considered by some to be a tipping point for wide-scale adoption.
"Given our leading technology and depth of experience, we aim to continue driving growth of the lithium-ion battery industry and accelerating towards a net-zero emissions future," Tadanobu said. ®