Finance industry breaking free of legacy IT to seize emerging digital economy opportunities
Digital transformation empowers banks to achieve business agility and get future-ready
---
Sponsored Feature In its Finance 2025: Digital transformation in finance report, consulting firm Deloitte noted that "cloud-based enterprise resource planning, automation, and cognitive innovation" are enabling financial institutions to radically simplify processes and optimize human resources.
The idea is that transactions will be increasingly touchless as automation and blockchain boost operations. This will trigger the emergence of new service delivery models that harness robots and algorithms working in tandem with a more diverse workforce. Automation will also enable financial institutions to optimize their costs by reorganizing workflows and the places where they are processed, meaning many may no longer require human intervention.
No industry for old tech
Huawei has a long history of helping international customers in the finance industry orchestrate their own digital transformation.
Many of those organizations struggle to deal with legacy network infrastructure, where high equipment failure rates increase operational expenditure (OPEX) while simultaneously slowing down service response times. A combination of aging systems and delays in adopting new technologies have constricted their business expansion and stymied efforts to deliver a full-service experience, especially when it comes to digitizing services in rural areas.
Thailand's Government Savings Bank (GSB) for example saw a pressing need for digital transformation to meet the demands of clients which have changed considerably over the past decade. It subsequently worked closely with partners to develop new applications and services for both customers and staff, with the aim of turning itself into a "fully digital social bank".
That entailed establishing smart, efficient and safe operations at more than 1,000 branches. But there was a problem. Many of the systems and products which made up the bank's existing IT estate had been discontinued. Updates were problematic and maintenance costs were high. The aging architecture also hampered GSB's ability to transfer data into the cloud and expand their network capacity and reach.
GSB's challenges underscore the importance of enabling business agility in the quest to bring new customers onboard and improve the end user experience. The need to connect the unbanked populations of the world and deliver financial services to more people while satisfying existing customers requires consistent service delivery across multiple channels
Establishing digital currency connections based on blockchain will also become more critical over time. But for all that to happen, financial institutions need to be sufficiently agile that they can deliver the right services to the right employees at the right time to foster efficient collaboration. In many cases this will require a company-wide reorganization leading to the removal of business silos the storage and management of data assets via secure multi-cloud connections and open platforms. To this end, the advantages of a hybrid, multi-cloud approach can help to mitigate data security risks and bolster data protection.
Fintechs fill the gap
Issues like these are a big deal for larger, incumbent finance players like GSB. Not least because their business is under threat from a new generation of smaller, more agile digital finance specialists which don't have large, legacy IT environments to hold them back.
Local businesses in certain developing regions of the world have also turned to alternative financial service platforms which operate beyond traditional regulatory frameworks due to the low rate of penetration for mainstream banking services.
Southeast Asia provides a good example of this global trend. A Temasek Holdings report on the region's digital financial services indicated that 70 percent of small and medium enterprise (SME) merchants using only cash today are expected to accept digital payments by 2025. Yet, more than 70 percent of consumers are presently underbanked or unbanked.
The Union Bank of the Philippines (UnionBank), which embarked on its digital transformation journey in 2016, aspires to improve what it calls "prosperity inclusion" by attracting those potential customers.
Ranked among the country's top banks in terms of profitability and efficiency, it also aims to meet the surge in demand for online banking services as people find themselves working and spending more time at home. UnionBank already has nearly 4 million customers, of which 1.6 million are users of mobile banking.
Mobile banking is playing a critical role in changing the way financial institutions interact with their customers, according to recent McKinsey Global Institute research, suggesting that digital transformation holds some of keys to driving financial inclusion.
Smartphone initiated digital payments for instance have transformed the end user experience with mobile wallets, simultaneously raising consumer expectations around the broader customer experience which has in turn galvanized financial institutions to step up their digital transformation efforts.
A new way to serve
The integration of emerging technologies such as 5G, big data and the Internet of Things (IoT) with the cloud is also accelerating transformation toward intelligence and cloud technologies.
Thailand's GSB aimed to use these as a foundation for new services but needed a network infrastructure which could enhance the end user experience across both online banking and traditional in-branch interactions while also reducing operations and maintenance costs. Huawei stepped in with a software-defined wide area network (SD-WAN) solution that creates a scalable cloud-based network which can accommodate new service demands and plans for future expansion.
Geared towards larger financial institutions, the solution interconnects headquarters, remote branches and multiple clouds, using on-demand, ultra broadband connectivity to deliver stable, continuous service availability across the network.
Data security is an additional priority, while zero-touch configuration and smart O&M via unified cloud-based management of LANs and WANs have quickened service rollouts and reduced costs for both branch and online banking.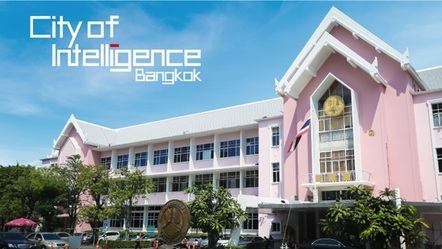 Click to enlarge
Thailand's GSB used Huawei's software-defined wide area network (SD-WAN) solution to create a scalable cloud-based network which can accommodate new service demands and plans for future expansion.
"The amount of data we need to transmit to our branch offices is increasing every day," said Mr. Boonson Jenchaimahakoon, GSB's First Senior Executive Vice President for the IT Group.
"The Huawei SD-WAN Solution enables GSB to connect branch offices by seamlessly and quickly transmitting data back and forth between bank branches throughout the country. No matter where the branch is, everything is connected by a full communications network."
Built to adapt
UnionBank faced a similar challenge after experiencing a 160% surge in its mobile banking customer base during the pandemic. Its campus and data center network (DCN) components had hit the end of their useful life and were no longer supported, and the bank needed a more scalable, future proof infrastructure to replace them.
Handling large volumes of pure digital banking customers also called for greater use of AI and software-defined networking (SDN) to enable more process automation. After assessing UnionBank's requirements, Huawei deployed its DCN CloudFabric solution, an end-to-end network architecture designed to provide secure 24/7 availability and six sigma performance quality which is powered by an AI explicit congestion notification and intelligent lossless algorithm.
The network uses both virtualization and cloud technologies to provide a fully redundant data center and campus network that maximizes reliability and minimizes service interruptions. The use of SDN helps the bank to eliminate many manual processes while full network visibility and automated O&M simplify its management and administration.
Cyber security protection extends across the edge, WAN, and data center locations while UnionBank continues to improve and upgrade its existing data and disaster recovery center to ensure that all connected devices meet constantly changing network demands.
"We need to continue with our digital transformation amid the Fourth Industrial Revolution", said UnionBank President and CEO Mr. Edwin Baustista. "Building on our strong digital momentum, we already have a blueprint to build Ark 2.0 – a smart branch that leverages on world-class 5G technology for seamless connectivity with IoT-enabled devices."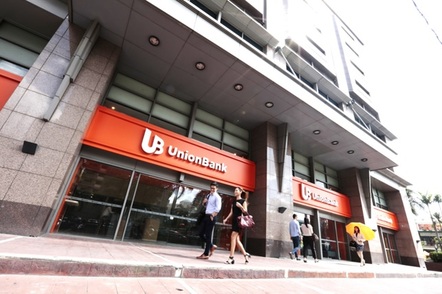 Click to enlarge
Faced with a 160% surge in its mobile banking customer base, UnionBank uses Huawei SDN to eliminate many manual processes, while full network visibility and automated O&M simplify its management and administration.
Transformed winners
Financial institutions keeping pace with the rapid pace of digital transformation which now defines the industry are likely to reap major benefits. And equally those that don't could lose their competitive advantage.
One thing that is certain is that more financial services will be delivered through an ecosystem of connected devices, with critical back-end operations increasingly hosted in the cloud.
Accenture reckons fintech-powered banking will become "the path to successful talent acquisition and retention" moving forward for example, even as small and medium banks "face escalating pressure to remain digitally competitive and avert the danger of losing clients and market share".
The silver lining is that it is perfectly possible for traditional banks can balance convenience, security, compliance and risk management when they introduce new technologies which help them quickly respond to regulatory requests and client demands.
All the signs suggest the broader digitization of the finance industry is progressing well. In Asia, Singapore's regulator has shortlisted four candidates for new digital banking licenses while Malaysia and the Philippines have finalized their digital banking frameworks and guidelines. McKinsey expects other regulators in the region to "increase license allocations and set standards for a new generation of banking".
In the meantime Huawei will continue to help financial institutions build agile platforms which will help them stay relevant in this new world of digital banking. The Huawei Intelligent Finance Summit 2022 in Singapore being held from from 20-22 July 2022 (register here to attend) will see the company host over 100 global financial institutions and 50 bank CIOs to exchange ideas about shaping the future of digitalized finance. The event will also showcase Huawei's approach to helping organizations fully embrace cloud native strategies, unlock more value from big data and deliver financial services by aggregating different software-as-a-service products in an open ecosystem.
New business models that make the most of opportunities created by prevailing fintech trends have emerged. Digital banking is not only growing but also starting to mature, which means the best may be yet to come.
Register here now to join Huawei Intelligent Finance Summit 2022.
Sponsored by Huawei.
Similar topics
Narrower topics