This article is more than 1 year old
US Space Development Agency invests $1.3b in missile tracking satellites
Northrop Grumman, L3Harris Technologies to build the 28-satellite constellation for warning, tracking
Northrop Grumman and L3Harris Technologies have won contracts worth up to $1.3 billion to build a 28-satellite constellation to support missile warning and tracking by the US Space Development Agency (SDA).
The first of the satellites are scheduled to launch in April 2025 and all 28 will eventually be tasked with collecting infrared data and providing network communications. There will also be a Ka-band payload.
The satellites are to be divided equally between the two companies, with 14 apiece. Melbourne-based L3Harris was awarded a potential $700 million while Northrop Grumman Strategic Space Systems scored $617 million.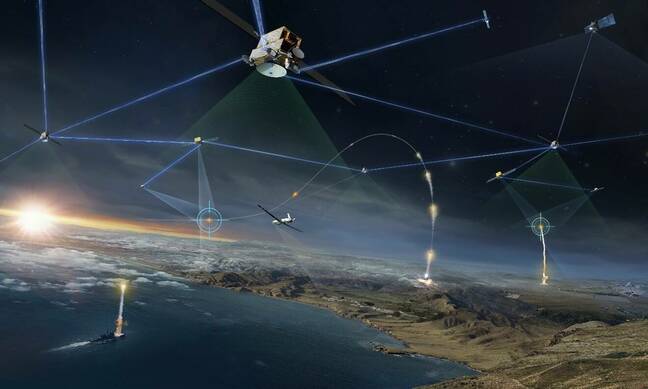 Northrop Grumman constellation concept (credit: Northrop Grumman)
"These prototypes will provide global and persistent indications, detection, warning, tracking, and identification of conventional and advanced missile threats, including hypersonic missile systems," said the SDA.
Northrop Grumman was delighted with its win, as well as the impressively swift 120 days for the SDA to go from solicitation to award.
Both L3Harris and Northrop Grumman have already worked with the SDA. L3Harris developed four prototype satellites under the SDA's Tracking Layer Tranche 0 award in 2020. Those spacecraft were produced under a $193 million fixed-price contract and are due for launch next year. Northrop Grumman received an contract earlier this year from the SDA with a potential value of $692 million for 42 satellites for the Tranche 1 Transport Layer (T1TL) mesh satellite communications network.
Each agreement includes a launch services segment and ground segment for operations.
Northrop Grumman's reach spreads far and wide in the space industry. As well as boasting of its involvement in the James Webb Space Telescope, it also has a hand in ferrying supplies to the International Space Station (ISS) via its Orbital Sciences acquisition.
Antares facing challenges
The Cygnus freighter is used to carry cargo to the outpost and is launched atop Northrop Grumman's Antares rocket.
The future of the Antares is uncertain at present however. After a flirtation with the AJ26 engines (which began life as NK-33 units originally designed for the Soviet Union's Moon rocket) ended in a fireball, the Antares was switched to RD-181 power plants. However, the Russian invasion of Ukraine and attacks on the country's industry means that a lengthy stand-down for the Northrop Grumman rocket is all but inevitable due to the fact some of its components are sourced in the war-torn country.
For those affected by the conflict, an inability to launch many more Antares rockets is likely quite low on the list of priorities. ®