This article is more than 1 year old
VMware president sees some 'anxiety' at customers who've seen Broadcom at work
Virtzilla also thinks SmartNICs can ease your security concerns
VMware president Sumit Dhawan admits that some of the virtualization giant's customers are anxious about its acquisition by Broadcom, though insists only a "tiny minority" have offered that response to the deal.
"There are questions ranging from curiosity to anxiety," he told The Register during an interview today. Those expressing anxiety often do so after having been customers of Broadcom software following its previous acquisitions of CA and Symantec, after which Broadcom used price rises to deliberately discourage some customers staying.
But Dhawan believes that most customers remain more interested in VMware's strategy than how it might change after acquisition. And that strategy has not changed: Dhawan said the company continues to operate as previously and remains independent to pursue its own agenda.
That agenda remains the pursuit of a stack that operations teams and developers alike can easily wield to build and run apps of all sorts, with a management plane that spans private and myriad public clouds and offers consistent tooling across all, and for containers or VMs.
Dhawan promised news of further enhancements to that strategy will be revealed at the company's late August "Explore" conference.
The Register understands some of those enhancements may arrive in version 8.0 of the company's flagship vSphere suite, which may also debut at the event.
It's less certain that VMware's Project Monterey – an effort to run virtual firewalls and other network appliances on SmartNICs – will see the light of day at the conference. In 2020 former VMware CEO Pat Gelsinger opined that Project Monterey would first find a home in financial services organizations and cloud operators.
Dhawan thinks mainstream datacenters will embrace the tech, for two reasons.
One is that demanding applications create bottlenecks that SmartNICs can address by relieving CPUs of networking and security scutwork. The other is security, which Dhawan said can benefit from SmartNICs' ability to run firewalls that inspect east-west traffic. That's important, he said, because many attacks rely on code that runs inside the firewall. Adding more security deeper inside the network strengthens an organization's defences.
There are questions ranging from curiosity to anxiety
Project Monterey involves running VMware's ESXi hypervisor on the Arm CPUs found on SmartNICs. VMware is also working to port ESXi to other Arm processors, including the 80-core Ampere silicon that as of last week can be found in Google's cloud as well Azure, Alibaba Cloud, Tencent Cloud, and Oracle Cloud.
Despite VMware's multicloud ambitions, Dhawan said the company plans no imminent product availability announcements for ESXi on Arm.
Indeed, for the next couple of years the company president believes VMware will focus its efforts on multicloud networking and security, and building out its subscription services such as the vSphere+ and VSAN+ offerings revealed in June.
VMware last week made those two services generally available and revealed they're bundles of product and services in a post that included the graphic below.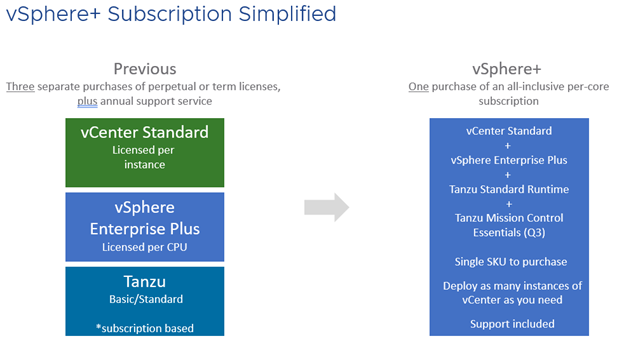 The vSphere+ bundle ... Click for slightly bigger
Dhawan said prices for the service may be revealed next week.
For now, it's surely notable that VMware's Tanzu container management tools are included in the bundle, as VMware has long sought to have its core platform manage both VMs and containers but struggled to generate enthusiasm among developers. The virtualization giant last year created a Community Edition of Tanzu in the hope it would demonstrate to developers that they can build more, faster, on Tanzu. VMware's theory is that if developers start to ask for Tanzu, even as ops teams who already live and breathe vSphere do likewise, it can extend its franchise as the dominant VM-wrangler into the world of cloud-native apps.
Dhawan told The Register that effort has some way to go, saying VMware's only really been in market with Tanzu for six to nine months, so it's understandable the signs of developer enthusiasm are not yet obvious.
Getting it right is therefore a challenge Broadcom will inherit – along with that small collection of anxious customers. ®