This article is more than 1 year old
Telco operator data storage power index
An evaluation system to help telcos optimize data storage, management and value
SPONSORED POST Telcos and mobile network operators are creating and storing more data than ever as they cement their place in the world's digital economy. The volume of information they process is constantly growing while businesses and consumers are demanding faster, more reliable access to content, applications and services hosted in their data centers.
The rapid expansion of fifth generation (5G) network coverage, handset availability and Internet of Things (IoT) devices will only exacerbate those trends over the next five years. Estimates also suggest that the volume of the data in telcos' billing and business/operational support systems alone, along with high-definition video content, will multiply tenfold in parallel.
With their data centers already starting to creak under the strain, carriers are left to ponder how long their existing infrastructure will last before they have to embark on inevitable upgrade initiatives. The immediate challenge they face is how best to evaluate current storage architectures against future needs, formulate a plan to build their capacity up and out with little or no disruption for their customers, and make better use of the data they collect to optimize their operations and service delivery.
"To invest wisely so as to optimize and simplify resource utilization and make operations and maintenance (O&M) more efficient, carriers need an effective way to measure "good storage", "good management" and "good use" of data in the data infrastructure," said Dr. Peter Zhou, vice president of Huawei and president of Huawei's data storage product line.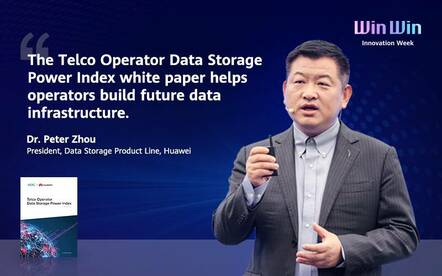 Click to enlarge
To address these concerns, research firm IDC and Huawei have established a comprehensive data storage evaluation system to help carriers evaluate data infrastructure which they will present in a new white paper titled Telco Operator Data Storage Power Index released on the first day of Huawei Innovation Week from July 18 to 21, 2022.
The digital economy will logically lead to a digital infrastructure in the future, and storage power will be a critical pillar of that infrastructure. This white paper focuses on five core capability indicators for the storage power of operators' data infrastructure identified and classified by Huawei: Security and Resiliency, Real-time Agility, Energy Efficiency, Intelligent Management, and Data Innovation.
Security and resiliency: maintain business continuity without data loss.

Real-time agility: realize efficient data storage and processing to meet customer experience requirements.

Energy efficiency: fulfil social responsibility on energy savings in line with the GSMA's 2030 target of reducing emissions by 45 percent.

Intelligent management: a gradual shift from "human-centered" to "automated management", and then to "autonomous driving" IT systems.

Data innovation: support emerging IT services and maximize the value of data.
"IDC and Huawei are cooperating in researching and writing a white paper on Telco Operator Data Storage Power Indicators. We hope to quantitatively measure the survivability indicators of domestic and foreign telco operator in the whole process of data storage and use, and provide reference for telco operator to build their own data platforms."
Thomas Zhou, Vice President of IDC China, noted that the paper establishes a three-layer evaluation system for measuring these capabilities, consisting of the operator region layer, data center layer, and storage device layer. The paper also identifies four trends in the target architecture for operator data storage which the two companies believe are currently shaping the data infrastructure of the future.
Core services on flash storage: All-flash storage will deliver fast data storage and real-time data access.

Massive distributed data: Distributed architectures will support cost-effective mass data storage and distribution.

Intelligent O&M: It will improve efficiency, enhance data management, and free up staff resources for business innovation.

Storage as a service (STaaS): Service-oriented storage resources will harness AI and big data as well as cloud and storage resource pooling to provide on-demand data and content availability.
With those objectives in mind, Huawei has enhanced its OneStorage strategy and data infrastructure portfolio to help telcos set up intelligent data storage networks based on an open, scalable architecture.
Find out more about how carriers can make the most of data as a critical asset in the Telco Operator Data Storage Power Index white paper.
Sponsored by Huawei.