This article is more than 1 year old
Russia's new space chief confirms it will leave ISS after 2024
NASA: First we've heard of it
Updated Hopes that the departure of Russian space chief Dmitry Rogozin from Roscosmos will improve global space relations have been crushed. New boss Yuri Borisov today confirmed a post-2024 withdrawal from the International Space Station project.
It isn't the first time this particular saber has been rattled. In 2021, Roscosmos indicated that the first module of Russia's new homegrown space station could be launched by 2025 once President Vladimir Putin gave the agency the nod to start on the project.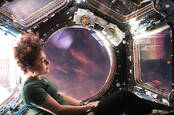 Ah, you know what? Keep your crappy space station, we're gonna try to make our own, Russia tells world
READ MORE
According to Russian mouthpiece, Tass, the decision to withdraw from the International Space Station once obligations are fulfilled (ie, as 2025 rolls around) has been made, and the new boss of Roscosmos, Borisov, will build the Russian Orbital Service Station (ROSS).
In 2021, then Deputy Prime Minister Borisov worried that the deteriorating state of the ISS could lead to "catastrophe" although Rogozin warned that simultaneously supporting the ISS while building a new Russian station at the same time would stretch the perilous finances of Roscosmos beyond breaking point.
The ISS itself seems set to continue until at least 2030. NASA expects commercial outfits to make use of the outpost after 2024 and eventually take over Low Earth Orbit operations while the US space agency focuses on missions to the Moon.
NASA and Roscosmos recently signed an agreement to fly Russian cosmonauts on US vehicles in return for flying US astronauts aboard the Soyuz.
While it is highly unlikely that Russia will simply detach its modules and fly off into the orbital night, as visualized by some of Rogozin's more colorful social media outbursts, the state of the Russian segment is a matter of concern. The first module of the ISS, Zarya, is approaching its 25th anniversary on orbit. Russia's other major contribution, the Zvezda module, was launched in 2000 (although constructed far earlier for the Mir 2 project.)
Cracks were found in the Zarya module last year, months after minor air-leaks were repaired in a transfer chamber, part of the Zvezda module. And then there was the Nauka fiasco, where the just-docked Russian module unexpectedly fired its thrusters and set the ISS spinning.
As such, a possible lack of participation by Russia following 2024 will leave managers concerned over any further failures that might occur in the country's segment. Alternatives exist for other ISS services provided by Russia, including the Progress freighter and reboost of the venerable space station.
NASA has yet to make a formal response to the Russian announcement, and an official at the US space agency said that no notification had been given of withdrawal, according to Reuters. ®
Updated to add
It now appears Russia may be staying around the space station for a bit longer.
On Wednesday, NASA's space operations chief Kathy Lueders told Reuters the Russian space agency has now said it will maintain ISS operations until its own, domestically run, space station is in orbit. The Russian Orbital Service Station (ROSS) isn't due to launch its first modules until 2026.
"We're not getting any indication at any working level that anything's changed," Lueders said, adding that US-Russian relationships were "business as usual."
Vladimir Solovyov, the space station's Russian flight director, said ROSS would be finished by 2028. "We, of course, need to continue operating the ISS until we create a more or less tangible backlog for ROSS," he said. "We must take into account that if we stop manned flights for several years, then it will be very difficult to restore what has been achieved."
While there's been no formal pact struck yet, NASA, Roscosmos, and ESA are still conducting negotiations to extend the ISS' operations to 2030, she confirmed.