This article is more than 1 year old
Apple-1 prototype hand-soldered by Woz up for auction, bids expected to reach $500k
For just a few hundred thou, you can 'reimagine' dusty Jobs garage computer with a massive crack across the circuit board
Got several hundred thousand dollars burning a hole in your pocket? Why waste it investing in further education, or paying off debts, when you can spend it on an original "Apple Computer A" prototype, right, Jobs fans?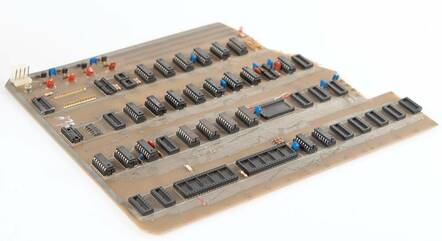 Pic via RR Auction
This specific piece of hardware is expected to bring in a cool half a million, being the board the Steves (Wozniak and Jobs) used to demo the Apple-1 to Paul Terrell, leading Terell to give them their first big purchase order for fifty Apple-1s in 1976. The Byte Shop owner paid them $500 per unit, cash on delivery, and sold them for $666.66 apiece.
Woz alone designed the hardware, circuit boards, and the operating system for the computer, first demonstrated at a meeting of Palo Alto's Homebrew Computer Club (Terrell and Jobs were also members) in July of the same year. As the listing points out: "Without Jobs, Woz had no market — he had already given away the Apple-1 design to members of the Homebrew Computer Club, and had little interest in exploiting it for profit." But Jobs, as history tells us, did.
And so the path to a $2.453 trillion market cap company began...
The sale, which is currently live, is being run by the Boston-based RR Auction, with the latest bid at the time of writing at $278,005. The auction closes on August 18. The auction house previously sold an Apple-1 for $375k in September 2018 and also sold Wozniak's original Apple II prototype schematics and programming instructions for a whopping $630,272.
The board – as the pictures on the auction house's site show – is rather worse for wear, with a missing piece split off from the power supply area above D12 down through the bottom right hand side of the board.
The auctioneers assume the other bit was thrown away (it spent several years in the holy garage of Jobs' childhood home before being gifted by Jobs to its current owner), but say the board may be "reimagined" – supplying Terrell's photographs of the complete board in action back in the day so collectors can view them side by side.
"Computer A" looks a little different from the production Apple Computer 1, the prototype has three orange Sprague Atom capacitors, rather than "Big Blue" capacitors found on the production version, say the auctioneers. It also features Woz's "three-handed" (two hands and a mouth really) soldering technique: with Wozniak holding the solder between his teeth (yikes! – at 3:10 in this video if you want to see this in action). Apparently the method creates "bubbles" at the soldered connections – though if you ask us, it might just be caused by being a bit over-generous with the solder.
The listing doesn't name the owner, but reiterates Computer A was given personally by Jobs to the seller. Whoever it is, they're not feeling that sentimental about it, which is fair enough since it's worth around $500,000 (or so its auctioneers estimate). Which is more than the dusty old kit some of us have lying around. ®