Fights, floods, and fortunes when cloud giants roll into town
Small-town troubles go hyperscale in one Virginia county over land, resources, and noise
Comment It's easy to think of zones and regions for cloud services in the abstract, as just another spot on the map to spin up virtual machines and services.
But every new region means a major construction project and a new flow for communities. Once the facility is up and running, it also means noisy power-sucking systems that absorb resources, from space to power to new transport routes.
The changes don't just hinge on infrastructure. The economic shifts when a new region opens are palpable as well beyond construction job creation. Cloud giants will pay millions of dollars for the land, which can represent life-changing amounts of money for those who live where internet titans choose to plunk down their bitbarns.
On the ground, cloud regions aren't about containers and APIs and per-CPU billing, they are issues of human politics and welfare.
Take, for instance, Prince William County in Virginia, USA, which is known for its lush rural landscapes, entrenched history, and its county seat, Manassas.
While rural life is the norm in this corner of Virginia, companies like Micron and Lockheed Martin have moved in, and the county has created several programs to reel in big tech.
One such program is the Prince William Digital Gateway project (PWDG), which champions the building of cloud server warehouses in an area known as the Rural Crescent. The group has been controversial since its inception.
The PWDG has marked out 2,133 acres it thinks corporations should be allowed to build datacenters on. This has upset some folks, and even led to politicians fending off accusations that they stood to financially gain from their decisions on the use of land in the county.
Origin story
This brouhaha can be traced back to a Comprehensive Plan Amendment the PWDG filed in 2021 that would create a 2,133-acre corridor for datacenter use in the Rural Crescent. In essence, the PWDG asked officials to amend county plans to allow the construction of datacenters in that space. The digital gateway project, which calls itself "a true grassroots movement," argues these facilities are needed to boost the area economically and socially.
"We are a group of people that live in Prince William County that see an opportunity to use resources already in our community to be a catalyst for job creation and major economic growth for our neighbors, friends, and fellow residents," the project states on its website.
By resources, it means electricity transmission lines, major roads, and similar developments – the argument being, if this industrial stuff is already here, it might as well be used for datacenters and boost the surrounding space.
From what we can tell, the project is made up of citizens with property along Pageland Lane who presumably want their land rezoned for technology use so it can be sold or leased to datacenter operators for millions of dollars. They stand to make a lot of money, if their request is accepted.
The group's proposed amendment drew fire, though, from residents who are against the forming of more industrial corridors through their countryside, as well as the Virginia Department of Forestry, which said the proposed changes would lead to environmental ecosystem damage if approved. 
A subsequent study by the National Parks Conservation Association concluded that water quality in the area would likely suffer, and the risk of flooding would increase due to wetland loss. Prince William Republicans also formally opposed the project. 
Another reason for much of the discontent is that the PWDG's 2,133-acre area lies outside of a zoning district specifically earmarked by county officials in 2016 for datacenter use, so chosen because infrastructure already in place made the locations ideal for datacenter-scale facilities.
Proposed development would put DCs on both sides of a national park
A look at a map of Prince William County makes it clear why some locals are frustrated: the land marked out by the PWDG (in light blue in the illustration below) lies across highway US-29 and on the other side of the 5,073-acre Manassas National Battlefield Park from the official datacenter zoning district.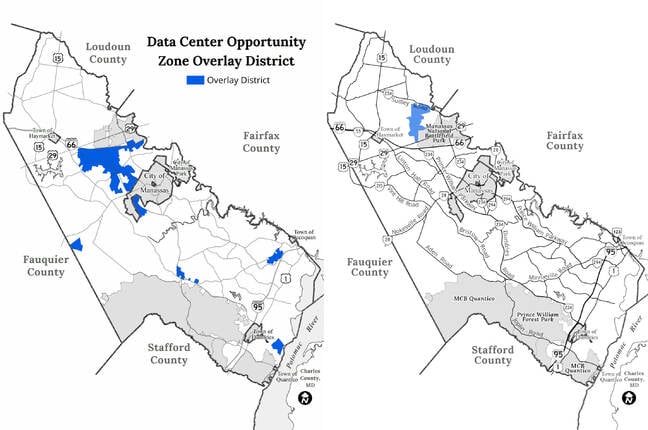 Maps showing Prince William County. The official datacenter district is shown in dark blue on the left, while the contested 2,133-acre PWDG area is in lighter blue on the right ... Source: County files. Click to enlarge
Prince William County's FAQ [PDF] for the existing datacenter zoning district stated that, as of April 19 this year, there are 33 datacenters in the county, with 29 located in the official zone (marked in deep blue in the illustration above). Altogether, the 33 datacenters total 5,491,575 square feet and sit on 523 acres. At the time of publication, an additional 13 datacenters were at least under construction in the county.
The FAQ also states that the official district isn't exclusive to datacenters, only that it has been identified as ideal land for such projects. Of the 9,500 acres in the zone's individual areas, only 459 are currently occupied by the 29 datacenters within the zone.
It's possible the PWDG's proposed amendment could be rejected for being superfluous, what with thousands of other acres already set aside for datacenter use. That would dash the hopes of those hoping to sell their land to cloud hyperscalers for millions, and be a relief to those who don't want to live near such facilities.
Then there's the politics.
In June, a recall effort began against Prince William County Supervisor Pete Candland. Organized by The Coalition to Protect Prince William County, the campaign claims Candland stood to financially benefit from the PWDG's amendment, as land he owns would be rezoned and could be sold for datacenter projects if the proposal is approved.
Candland was told by Amy Ashworth, the Commonwealth's Attorney for Prince William County, in May he should recuse himself from any votes involving the project.
Though Candland agreed from then on to not take part in any further PWDG discussions and decisions, the recall campaigners claim he participated in votes and official county business regarding other datacenter zones and related issues, and want him removed.
Candland declined to comment to The Register. However, last month he told the Bull Run Observer, a newspaper serving the Gainesville area he represents, that what the recall campaigners "are alleging is not true."
He said he believes that if the petition against him is submitted to a court to approve a recall, the judge would find he hasn't broken any rules.
"It's important to note, that I reached out to [Amy Ashworth], to ask for her opinion and advice," he added to the newspaper.
"Throughout this entire process, I've been acting according to the state statute to the best of my knowledge. She was very gracious in providing her advice to me. Since I received her advice, I've followed it to the letter."
A crucial point here is that Candland is no longer voting on the PWDG proposals.
Then in July, some took notice of the financial disclosure forms of the Board of Supervisors Chair-at-large Ann Wheeler, which indicated she held shares in companies involved in, among other things, building datacenters in the county. 
Wheeler's tech stock holdings included Amazon [PDF], which is building a datacenter in Prince William County, as well as other companies with ties to the datacenter industry.
On the one hand, they look like standard personal investments – big-name corporations such as General Electric, and mutual funds that are managed on behalf of shareholders who don't get to choose the individual positions.
However, one of Wheeler's largest holdings, with her husband, was in Blackstone Inc, a large firm that invests in a range of industries and organizations. It owns QTS, a datacenter technology outfit and central figure in the PWDG effort. As of April, QTS has 800 acres of land on contract within the PWDG area. Wheeler thus would be voting on a project affecting a company she has shares in.
Speaking to the news website Bristow Beat, Wheeler said her holdings don't constitute a conflict of interest as defined by the state of Virginia, and that she has sold off her Blackstone shares in any case.
Those financial interests are the central argument behind a recall campaign targeting Wheeler also started by the Coalition to Protect Prince William County.
In a statement to The Register, Wheeler told us:
My first duty is always to the people of Prince William County. To ensure financial transparency, all elected officials are required to have pubic financial disclosures which outline each elected officials' financial interests.

As shown in my public disclosure, we owned the Blackstone Fund, a very widely held stock (held by both VRS and Vanguard.) Blackstone, along with other stocks people have pointed to, are not "datacenter stocks" if you look at their holdings. While my ownership of this particular stock did not rise to the level of a conflict of interest as defined by the state statute, and in no way would have affected my evaluation of any projects before the board, to put to rest any doubt in the minds of anyone who has a concern, my husband and I have divested ourselves of any interest in the Blackstone Fund.
It's not a given the recalls against either supervisor will succeed – the petitions are said to have gained more than a thousand signatures against each supervisor, 1,800 and 11,300 are needed to bring the matter to a judge for Candland and Wheeler respectively – nor if any successful recalls or resignations would actually affect votes on the PWDG's proposals. 
The Board of County Supervisors consists of five Democrats, including Wheeler, and three Republicans, including Candland. The Republicans tend to oppose the construction projects, and the Dems are open to it. A proposal last year to consider additional land for datacenter development passed on a party line vote: five Democrats in favor, and three Republicans against. 
A successful recall of both Supervisors would leave the situation unchanged. Were Wheeler to lose her seat, Democratic Supervisors would still outnumber Republicans. With Candland recused, it's now easier than ever for datacenter projects to be approved, or harder for them to be rejected.
Earlier this year, residents of nearby Culpeper County sued the county to block a new Amazon datacenter, which may be the only way forward for Prince William residents should recall efforts fail to interrupt momentum. ®