China allows robo taxis – without backup drivers – in parts of two major cities
Baidu gets the fare in Chongqing and Wuhan
China has issued two licences for robot taxi operations, according to local tech giant Baidu.
In a statement sent to The Register, Baidu claimed its Apollo robot taxis have won the right to operate in parts of the cities of Chongqing and Wuhan.
The licences issued apparently do not require the presence of a human driver.
China's organic cabbies don't have a lot to worry about – for now – because the services are geo-fenced, as was the case when Baidu was allowed to operate tests in Beijing. The licences also restrict operations to daylight hours.
In Wuhan the robot rides will therefore only operate in a 13 square kilometre block of the Wuhan Economic & Technological Development Zone, between 9:00AM and 5:00PM. In Chongqing's Yongchuan District robots will roll across 30km2 from 9:30AM to 4:30PM.
Each city will also get just five robot taxis.
But Baidu's Wei Dong, who serves as vice president and chief safety operation officer at the company's Intelligent Driving Group, has hailed the issue of the permits as an important step.
"We believe these permits are a key milestone on the path to the inflection point when the industry can finally roll out fully autonomous driving services at scale," he sad in a canned statement.
Those words aren't just hyperbole. Baidu says it has a million orders on the books for its robo-cabs and recently introduced a vastly cheaper model it expects will spur further adoption and provide additional revenue streams to cab companies by including space for vending machines.
The two just-announced services will use a previous generation car, depicted below.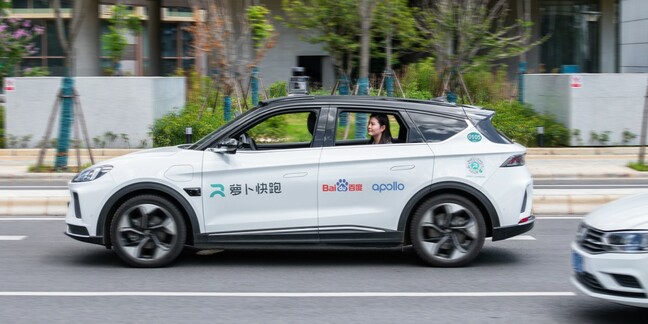 Baidu's robo-cab. Click to enlarge
China is all-in on electric and autonomous vehicles, with several local manufacturers already offering ready to roll cars and tech giants like Alibaba, Huawei and Xiaomi set to enter the market too.
The nation has even tested "smart highways" equipped with sensors to help such vehicles move at higher speeds, and manage traffic flows to lessen the impact of bottlenecks like traffic lights.
China's activity in the sector has not gone unnoticed elsewhere. One of the aims of the US's recently approved giant tech stimulus package is to ensure the nation is not reliant on Chinese battery technology and can match its progress towards autonomous driving adoption. ®