This article is more than 1 year old
Quantum systems maker D-Wave takes the SPAC route
Company had hoped deal would grant access to $300m trust account, but shareholders cleared it out
Quantum computing pioneer D-Wave Systems has completed its planned merger with DPCM Capital, taking the company public on the New York Stock Exchange.
D-Wave announced its intention to merge with DPCM Capital, a SPAC or special purpose acquisition company, earlier this year in a deal that would make it a publicly quoted business. It was claimed at the time that the agreement would value the company at $1.2 billion.
Following completion, D-Wave Quantum Inc became the parent company of both DPCM Capital and D-Wave, and its shares of common stock have commenced trading on the New York Stock Exchange under the ticker symbol "QBTS".
The move was welcomed by Alan Baratz, CEO of the newly merged entity, who said the business combination would position the company to accelerate its growth strategy, using capital raised through the merger along with its newly gained access to the public money markets.
"Today marks a significant milestone in our journey, as we embark on our next phase as a publicly traded company," Baratz said, adding: "The era of commercial quantum computing is here."
However, D-Wave was hoping the completion of the merger with DPCM Capital would grant it access to a trust account worth $300 million, assuming that there were no redemptions by shareholders, but the company disclosed in a recent filing with US regulators that the SPAC's shareholders had in fact exercised those rights and redeemed $291 million worth of shares, significantly reducing D-Wave's funding from the deal.
It is noted that other quantum outfits that went public through the route of SPAC mergers have struggled to maintain their share prices, including Rigetti Computing and IonQ.
D-Wave has built its business on around selling a type of quantum computer known as a quantum annealing system for over a decade, but has recently begun work on its own quantum gate technology, the kind of architecture used in most other quantum systems that exist at the moment.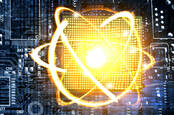 D-Wave opens up access to small-scale Advantage2 quantum computer
READ MORE
The company has so far brought five generations of quantum computers to market and in June launched an experimental prototype of its sixth-generation machine called Advantage2.
D-Wave claims that its commercial customers include nearly two dozen Forbes Global 2000 companies, such as Volkswagen, Accenture, NEC Corporation and Lockheed Martin, to which it provides a complete platform comprising hardware, software, developer tools, and a quantum cloud service.
In May, D-Wave announced availability of one of its Advantage quantum computers via a cloud service, but physically located in the US at the University of Southern California, to encourage American organizations interested in evaluating quantum computing that are likely to want the assurance of having it based in the same country. ®