This article is more than 1 year old
NASA selects 'full force' for probe into UFOs
'We're placing a high priority on it'
NASA is pushing ahead to recruit a panel of experts and publish a much-awaited report on unidentified aerial phenomena (UAPs), all with a budget of up to $100,000.
UAPs are observations of strange airborne objects and other things in the sky that cannot be immediately explained. Everyone's heard of the UFO; UAP is the term government officials prefer.
Uncle Sam has helped launch a renewed interest in UAPs, admitting its g-men and g-women have amassed a collection of evidence of the phenomena the over the years. Some of the most intriguing recordings include declassified footage released by the US Department of Defense of pilots reporting mysterious entities that appear to be flying at breakneck speeds, although these claims are hotly disputed.
NASA announced it was also going to conduct an independent study of its own, earlier this year. Now, Daniel Evans, assistant deputy associate administrator for research at NASA's Science Mission Directorate (SMD), said NASA is taking the project seriously. "We're going full force," he said in a town hall meeting this week, reported by Space.com. "This is really important to us, and we're placing a high priority on it."
NASA is now in the process of finalizing a panel of 15 to 17 experts to analyze and process evidence of UAPs; the information is expected to be released to the public after the nine-month-long study launches around October.
Panel members include "some of the world's leading scientists, data practitioners, artificial intelligence practitioners, aerospace safety experts, all with a specific charge, which is to tell us how to apply the full focus of science and data to UAP," Evans said. The project is expected to cost no more than $100,000.
Officials will try to identify which events are natural; it may be possible, for example, that some of these strange aircraft are simply top secret next-generation vehicles. There isn't much data to go on, NASA has previously said there was no evidence that these UAPs are signs of extraterrestrial intelligence.
A slide from the SMD's town hall presentation shows NASA will not just be trying to sort through existing data, but will also be thinking about how best to collect data on UAPs in the future.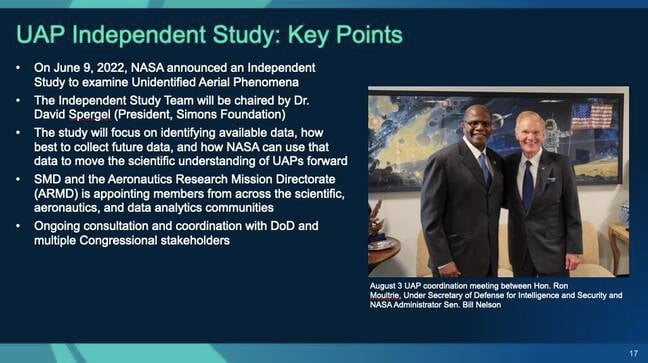 A NASA town hall meeting slide on UAPs ... Click to enlarge
The space agency will also be working with the Department of Defense and members of Congress. Identifying these UFOs is of great interest to NASA and the DoD for national security, air safety, and scientific research. "NASA really is uniquely positioned to address UAP, because we know how to use the tools of science and data to discern what might be happening out there in the skies," Evans said. "And, to be frank, no other agency is trusted as much by the public as us." ®