Japan reverses course on post-Fukushima nuclear ban
PM says shuttered plants can re-open, fresh reactors will be built, old ones are getting their lives extended
Japanese Prime Minister Fumio Kishida said today his country would begin not only restarting nuclear plants sitting idle since the Fukushima affair, but will begin building reactors as well.
The plan is effectively a total reversal of Japan's post-Fukushima nuclear strategy that saw it shutter existing plants and put a moratorium on new nuclear projects, thus ending an 11-year prohibition on the use of the technology. 
In addition to reigniting existing reactors and building fresh ones, Kishida said the Japanese government would also look into expanding the life expectancy of existing reactors. In many cases, Reuters pointed out, Japan previously decommissioned nuclear plants when they reached 60 years of operation.
It could be argued that Japan's reaction to the 2011 Fukushima incident was overblown; the International Atomic Energy Agency said last year Fukushima was a huge setback to efforts to scale up the use of nuclear power.
Japan, the IAEA said, went from getting a third of its energy from nuclear power prior to 2011, to 7.5 percent in the years since Fukushima, with replacement energy coming mostly from fossil-fuel sources.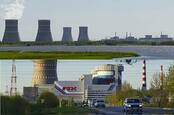 2050 carbon emission goals need nuclear to succeed, says International Energy Agency
READ MORE
The international agency said Germany, Belgium, Italy, Spain, and Switzerland also made decisions to suspend or reduce nuclear investment, resulting in the loss of some 48 GWe of output capacity "as a total of 65 reactors were either shut down or did not have their operational lifetimes extended." 
But recent spikes in global energy prices thanks to the war in Ukraine have made some countries rethink that decision – including Germany, which the Financial Times said recently revisited its decision to suspend nuclear programs after Fukushima. 
Japan made moves earlier this year, too. In July, the country reignited several nuclear plants to head off energy uncertainty after decrees from the Kremlin threatened Russian natural gas exports, which Japan has relied on for much of its energy since decommissioning its nuclear fleet.
In a recent report, the International Energy Agency said [PDF] there was likely no path toward 2050 zero-emissions carbon goals that doesn't include the use and expansion of nuclear power. The IEA sees nuclear not as a permanent solution, but as an intermediary between preferred renewables, such as wind and solar and fossil fuels. 
"Nuclear power has the potential to play a significant role in helping countries to securely transition to energy systems dominated by renewables," the IEA said. 
Unfortunately, a nuclear path toward sustainability might not be so simple. Even new reactor designs come with trade-offs for improved safety and convenience: some small modular reactors, for example, potentially allegedly produce 35 times more waste than traditional systems. ®