NASA's Space Launch System rocket is on track for August 29 liftoff
Artemis 1 is ready to light its candle
NASA's most powerful rocket, the Space Launch System, just passed its flight readiness review, bringing it one step closer to meeting a target launch date of August 29. 
The flight will be the first test of the space agency's super heavy-lift expendable launch vehicle designed to take future astronauts to the Moon by 2025 under the Artemis program.
Like many of NASA's ambitious missions, the time and money needed to build the vehicle have far surpassed initial estimates. The SLS was projected to cost $6 billion, and slated to launch in 2016. Now, with overall costs at $23 billion and $2 billion per launch, NASA is finally going to launch the rocket next Monday in a two-hour window starting from 0833 ET (1233 UTC). Officials confirmed the SLS had passed its flight readiness review in a briefing.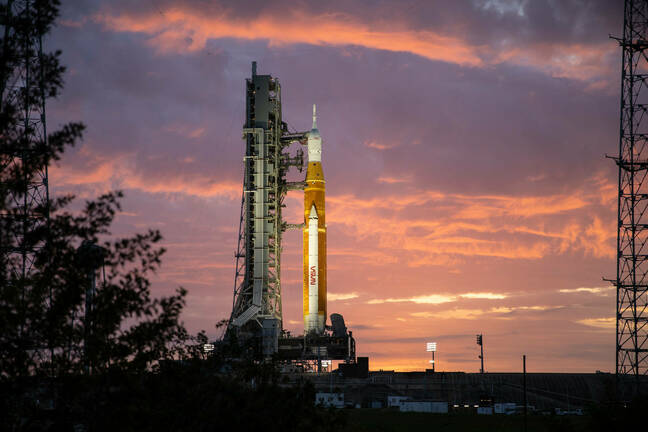 Image Credit: NASA/Ben Smegelsky
Top managers and executives are in agreement about the rocket's current status and future steps, said Jim Free, NASA associate administrator for exploration systems development. 
"We had no exceptions today. We actually had no actions coming out of the review and we had no dissenting opinions," he said at the briefing. 
Standing 322 feet tall, and weighing 5.75 million pounds, the first iteration of the SLS rocket will provide a whopping 8.8 million pounds of thrust at liftoff and carry 154,000 pounds of payload. NASA is planning six different variations of the launch vehicle to accommodate different cargo types and future crew deliveries.
Although all signs are go for a launch from the Kennedy Space Center in Florida, there are a few last-minute hurdles that could throw NASA off track, such as a previous problem with the core stage's hydrogen tank with fuel.
"We believe that we have taken all the actions to correct that problem," Blackwell-Thompson said, referring to a previous hydrogen leak issue. "If we do not successfully demonstrate that we are not going to launch that day," Sarafin added.
There are other difficulties that could prevent the vehicle from flying, the most obvious of which is weather. The SLS will not launch if there is a higher than 10 percent chance of lightning, 5 percent chance of hail, or if it's raining or is too windy.
If it all goes to plan, however, the rocket will soar into the sky taking the Orion spacecraft with it for a 42-day trip in space. The capsule will sit atop the rocket and separate two hours after liftoff; it'll then zoom 280,000 miles from Earth and 40,000 miles to the far side of the Moon during the mission. No humans will be aboard the Orion this time, but it will take the first woman and next man to our satellite in the future.
Orion will receive gravity assists from the Moon to change its orbit and set it back on the right path to return to the Earth, where it will re-enter our planet's atmosphere at 24,500 miles per hour, protected by a heat shield. NASA will be monitoring the performance of the SLS and Orion every step of the way, capturing data that will assist the space agency in future launches.
"Going 42 days puts a lot more stress on those systems, plus the environment it's in – longer exposure to radiation, longer exposure to micrometeoroid hits – means we're going to learn a lot from this test flight," said Bob Cabana, NASA associate administrator. "We're stressing it beyond what it is designed for and we'll see what we learn."
If NASA fails to launch the SLS on August 29, it has two more attempts scheduled for September 2 or 5 before the agency needs to think again. ®