California to phase out internal combustion vehicles by 2035
Air board votes unanimously to approve wind down of gas guzzlers
There's a popular adage that "as California goes, so goes the nation."
If that holds true, America could be on the path to parity with the EU's planned 2035 ban on internal combustion engines, as a regulator in Sacramento voted unanimously today to effectively do just that.
The package of rules known as Advanced Clean Cars II (ACCII) will, beginning with 2026 model year vehicles, require 35 percent of new vehicle sales in the state to consist of zero-emissions vehicles (ZEVs) or plug-in hybrids. That number will increase over time, as shown in the table below, eventually reaching 100 percent in 2035.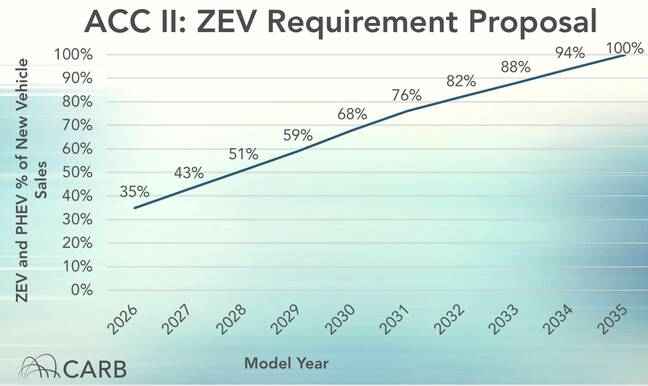 ACCII's phased ZEV sales requirements - Click to enlarge
ACCII sees California's Air Resources Board (CARB) formalizing the 2035 goal that Governor Gavin Newsom targeted in a 2020 executive order written while Trump-era regulations still blocked the state from making its own emissions rules. That restriction was undone by the Biden administration late last year, freeing Cali to pursue regulatory action.
ACCII was proposed in April, not long after the restriction was lifted, and amended after a first hearing in June to add new battery durability requirements, and an optional incentive program for manufacturers to give lower-income Californians access to zero-emissions vehicles through lower prices and other programs.
In addition to phasing out sales of internal-combustion vehicles, ACCII also includes "new minimum technical requirements and ZEV assurance measures" that would address shortcomings in warranties, durability and serviceability, create charging standards, and require companies to display battery health information to vehicle owners, among creating other standards.
CARB Chair Liane Randolph said during today's hearing that the board would perform annual audits to ensure automakers were following regulations, and so problems could being appropriately addressed as they arose.
Road bumps guaranteed, says CARB
In the air board's summary [PDF] for ACCII, it doesn't avoid the topic of how a phased ban on internal combustion engines will affect the economy.
According to the document, "the proposed ACCII Regulations are estimated to result in additional cumulative costs to manufacturers of $29.9 billion, or $2.0 billion on average per year," between 2026 and 2040. 
There's an admission that some of that cost may be passed onto consumers, even with incentives included in the bill to keep costs down. According to the board, total cost of ownership will "result in overall savings," most of which the board said will come through reduced fuel costs.
Additionally, the board said that the regulations will create 24,996 more jobs by 2040, but with a corresponding loss of 65,810 jobs, predominantly in the retail and government sectors. Potential adverse impacts to agricultural and forest resources, geology and soils, hazardous materials, water quality and other natural resources are mentioned as well.
"​​Despite these potential adverse impacts, the proposed ACC II Regulations are needed to ensure the significant environmental and economic benefits are realized," board staff said in the summary. 
Zero emissions, with footnotes
Concessions to the auto industry included in the new rules will allow car makers to get around 100 percent zero-emissions sales requirements, at least for a while. 
One of the key loopholes in the bill is the ability for automakers to bank "credits" for manufacturing zero-emissions vehicles prior to enactment of regulations. As part of the new regulation, pre-2026 model year credits earned by Californian auto manufacturers can be carried over to help them achieve 100 percent zero emissions sales through 2035, though with some annual and cumulative limits. 
Additionally, the regulations give auto makers some flexibility as to which vehicles they can count toward their zero emissions requirements. 
"In light of the fact that other states may exercise their authority to choose to adopt California's ZEV regulations," ACCII will allow car companies to pool their ZEV manufacturing numbers – provided the vehicles are manufactured in a state that shares California's standards. 
"Excess values accrued in one state that has adopted California's ZEV regulations … can be used for compliance in another, up to an allowed cap through the 2030 model year," the red tape states.
Even with those loopholes, CARB said the regulations would result in massive emissions reductions by 2040. According to the environmental report commissioned as part of the regulatory process, ACCII could result in up to 30.4 fewer tons of nitrogen oxides and two fewer tons of fine particulate matter per day, and a total reduction of 58.4 million metric tons per year of greenhouse gasses in California alone. 
With the regulation approved, CARB is beginning the process of preparing written responses to public comments, and will forward the regulations to the California Office of Administrative Law this fall, as well as submitting a waiver to the Environmental Protection Agency for permissions to enforce its own regulations that go beyond US federal law. 
CARB board member Daniel Sperling said he believes ACCII is the most significant regulation ever enacted by the board. "I've been working on this since the cap and trade days ... this is far bigger than that," Sperling said during today's hearing.
The timing for ACCII couldn't be better for electric and zero-emissions vehicle manufacturers, as the percent of overall vehicle sales in the US recently passed 4.6 percent – a sliver, but a 60 percent increase in Q1 2022 over the previous quarter, Car and Driver reported.
The boost isn't needed as much in California, which said it recently passed one million ZEV sales in the state. According to Newsom's office, 40 percent of zero-emissions vehicles in the US are owned by Californians, despite the state only owning 10 percent of the nation's cars. 
According to the Center for Climate and Energy Solutions, 14 US states have adopted portions of California's earlier ZEV rules, so that hope that other states adopt ACCII-style rules may not be that far-fetched. Whether the other 36 states will get onboard is less clear – unless the adage holds. ®