T-Mobile US and SpaceX hope to deliver phone service from space
Companies claim 'no modifications .. required' on ordinary cellphones, but analyst says Starlink has 'no authorization to deploy v2 satellites'
T-Mobile US and SpaceX have announced plans to use satellites in low Earth orbit to provide cellphone coverage in remote locations across the US and perhaps globally using existing devices.
The two companies announced the scheme under the banner of "Coverage Above and Beyond" at an event hosted by SpaceX founder, CEO, and Chief Engineer Elon Musk and T-Mo CEO Mike Sievert. The goal is to bring together T-Mobile US's terrestrial wireless network with the Starlink low Earth orbit satellite constellation operated by SpaceX.
According to T-Mobile US, the service will initially support text messaging "practically everywhere in the continental US," plus Hawaii, parts of Alaska, Puerto Rico, and US territorial waters, starting with a beta in select areas by the end of next year.
There will be some technical challenges to overcome around the compatibility side of things.
But the two companies said that after this is up and running they plan to extend support to voice and data coverage. They also said that they hope to expand Coverage Above and Beyond globally by working with other global carriers.
"We've always thought differently about what it means to keep customers connected, and that's why we're working with the best to deliver coverage above and beyond anything customers have ever seen before," said Sievert.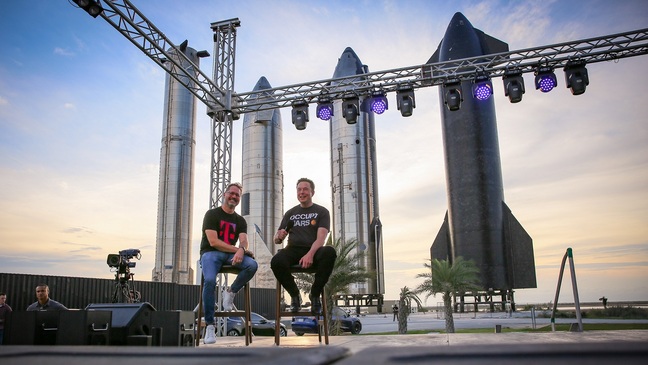 T-Mobile US's Michael Sievert with SpaceX's Elon Musk
SpaceX insists the system has been designed so that "no modifications are required to the cellphone everyone has in their pocket today, and no new firmware, software updates, or apps are needed."
This is in contrast to some other schemes that aim to extend mobile phone services using satellites, which are building on updates to the 5G specifications that will be supported by new handsets.
One such project was announced by Qualcomm, Ericsson, and Thales last month following the approval in March of satellite-driven 5G non-terrestrial networks (5G NTNs) in Release 17 of the 5G specifications from the 3GPP telecommunications standards body.
Ericsson said that changes to support 5G NTNs would be minimal, comprising some software additions and a new filter to support the satellite band, but would still require users to have a new handset.
'StarLink has no authorization to deploy v2 satellites' – analyst
There are some question marks over whether a satellite service really will work with any existing cellphone handset, and what effect this might have on the battery life of the device, for example.
"There will be some technical challenges to overcome around the compatibility side of things (satellite, antennas talking to phones), also the mobile devices will be continuously seeking a signal which will most likely drain the battery," said PP Foresight telecoms analyst Paolo Pescatore. "While some time will still be needed, SpaceX continues to make progress," he added.
Coverage Above and Beyond can be seen as a complementary technology to terrestrial networks, allowing users to continue texting and eventually make a cellphone call even when they leave areas that are covered by terrestrial networks.
"The important thing about this is that it means there are no dead zones anywhere in the world for your cell phone," Musk said.
But Gartner analyst Bill Ray said that there are significant barriers, not least that SpaceX satellites are not currently capable of delivering the service.
"StarLink was already planning to deploy bigger satellites (v2, about four times the weight), so those will have a bigger antenna, but StarLink has no authorization to deploy v2 satellites, which are needed for several reasons including to run this system," he said. "This is in contrast to SpaceMobile and Lynk, which already have permission to launch."
He also noted that StarLink does not yet have authorization to run a US service using those frequencies, adding that this was also the case for SpaceMobile and Lynk, who both need regional permission to provide service (SpaceMobile has a test licence from the FCC for the satellite currently awaiting launch).
As for the implications, Ray said that while "global broadband (such as that offered by SpaceMobile) will have a bigger impact... being able to assume connectivity will be transformative."
T-Mobile US and SpaceX, meanwhile, have issued an open invitation to other carriers to collaborate with them and help build truly global connectivity. T-Mo committed to offer reciprocal roaming to providers that opted to work with them on the project.
"Ultimately this is good news for consumers to ensure they are able to receive connectivity in hard-to-reach areas," said Pescatore. "It is better than nothing and lots of work is still needed to ensure more services, features and available, but for now reliable and robust connectivity is paramount."
Ray told us: "Just knowing that a connection will always be available changes how people view remote regions – mountain rescue organizations are going to be busy saving more lives (but spending less time searching) – but we will also see bigger shifts as people are able to access cloud computing services from anywhere." ®