Tesla faces Autopilot lawsuit alleging phantom braking
Automaker accused of hiding malfunctioning tech from drivers
A lawsuit filed against Tesla this month accuses the automaker of covering up an alleged malfunction that makes vehicles stop for nonexistent objects, sometimes in the middle of traffic, while in Autopilot mode.
The class-action-seeking suit [PDF], which was filed in federal court in northern California, accuses Tesla of fraud, breach of warranty, violation of the Magnuson-Moss Warranty Act, disregard for Cali's deceptive trade practices laws, and unjust enrichment.
"The problem is that Tesla is rushing these features to market when the technology is not yet ready and not yet safe. That is what this case is about," attorneys for 2021 Tesla Model 3 owner Alvarez Toledo, the California-based plaintiff looking to represent the class, alleged in the filing.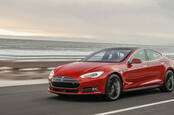 Tesla owner gets key fob chip implanted in his hand
READ MORE
At issue is Autopilot's Automated Emergency Braking (AEB), which is supposedly designed to automatically slow or stop the vehicle if the feature is active and its sensors detect an object in its path. The suit alleges that Tesla knew of a problem where phantom objects would allegedly cause vehicles to unexpectedly slow or stop "for years, including before it put the class vehicles on the market." 
The suit claims that, had the plaintiff and proposed class members known about the alleged problem, "they would not have purchased [a class vehicle] on the same terms or would have paid less for them." 
Despite Tesla's internal awareness of the alleged fault, the suit claims, the Elon-Musk-owned car company has done nothing to recall affected vehicles, offered the plaintiff or class members free replacements, nor offered to reimburse consumers who've paid for AEB features.
The lawsuit asks for a jury trial that would reward class members "statutory, compensatory, treble, and punitive damages in amounts to be determined by the court," as well as paying attorney fees and refunding Autopilot subscription payments. 
The suit also asks for injunctive relief against Tesla that would force it to be truthful about its alleged AEB shortcomings.
No shortage of suits at Tesla
Investigations and lawsuits aimed at Elon Musk's electric car company are numerous, though not all involve vehicle safety. 
On the automotive lawsuit front, an investigation into Autopilot accidents by the National Highway Traffic Safety Administration (NHTSA) was upgraded in June to a "formal engineering analysis," after which the US agency could issue a recall of affected vehicles, which includes over 830,000 2014-2022 Tesla Y, X, S and 3 vehicles. 
The NHTSA didn't immediately respond to requests for an update on the status of the investigation, or whether it was looking into braking issues as well as accidents.
Additional ongoing lawsuits against the automaker include one focused on an alleged suspension failure that is claimed to have resulted in a fatal crash in Florida, and numerous suits over the general safety of Autopilot. ®