This article is more than 1 year old
California to try tackling drought with canal-top solar panels
Watt an interesting idea
California is ready to try out something that could help it save water and generate electricity at the same time: solar panels over irrigation canals.
For this proof-of-concept experiment, some 8,500 feet of photovoltaic panels will be installed over waterways just north of Turlock, central California, generating electricity while preventing water from evaporating away.
This $20 million state-funded pilot program has been dubbed Project Nexus, and will by run by Turlock Irrigation District (TID), a nonprofit water and power utility, along with its partners. If it's a success, it could well be deployed across more of America's Golden State.
Once completed, Nexus is expected to generate 5 MW of renewable energy. If all of California's 4,000 miles of public waterways were so covered, 13 GW could be generated, according to a 2021 study published in Nature that was cited by TID. That latter figure would be enough to meet a sixth of the state's energy demands, we're told.
And that's not the project's only selling point for drought-stricken California, as the canal panels will help it fight evaporation. The aforementioned study found that 4,000 miles of canal panels could save more than 60 billion gallons of water per year. According to the study's authors, full canal coverage in California would be enough to irrigate 50,000 acres of farmland or supply water for more than two million people. 
In addition to helping fight drought, the panels will also reduce vegetative growth in the canals, which TID said will increase the quality of the water flowing into farm fields. Because the microclimate adjacent to irrigation canals is somewhat cooler than the surrounding air, TID said the project will also keep solar panels cool, fighting heat-based efficiency losses. 
California isn't first in this area. For instance, irrigation-canal-topping solar panels have been successful in India, where land use practices make it difficult to purchase land for solar farms, the BBC reported. After a small test project was launched in the west Indian state of Gujarat in 2015, similar projects have been started around the country, including a long stretch of canals branching from the Narmada Rivera.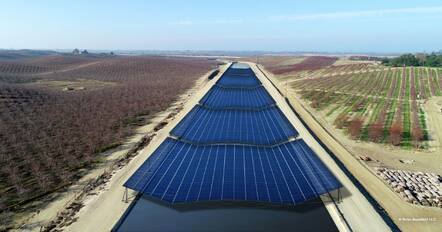 A concept rendering of one of Project Nexus' planned installations ... Source: Solar AquaGrid
That newer project is able to generate 100 MW of power, which Indian officials told the Beeb provides farmers with electricity during the irrigation season, known for its higher energy needs. When it's not needed by farmers, that energy is fed into the state grid. Indian officials cited many of the same benefits touted by Project Nexus, such as a reduction in algae blooms, reduced evaporation, and the cooling factor provided by canals. 
Still, the costs to construct canal-top solar systems can become much more expensive. Among the costs that Indian officials have run into is the need to galvanize panel supports with zinc due to increased risk of corrosion, and finding canals that are not too narrow, which would be inefficient, or too wide, making construction costs too high. 
TID, which is the first publicly owned irrigation district in the US, said that Project Nexus panels will be installed over three sections of the district's canals – in the town of Hickman and city of Ceres – beginning this fall, with completion planned for the end of 2023. 
"Project Nexus has the potential to demonstrate a new, innovative water-energy nexus project that can be replicated elsewhere in the state and nation to increase efficiencies in managing limited natural resources," TID said. ®