This article is more than 1 year old
Startup wants to build a space station that refuels satellites by 2025
Orbit Fab hopes to charge $20m for a hydrazine refill – and you thought fuel prices down here were bad!
Spacecraft running low on fuel could get a refill from an orbital station by the year 2025, according to a startup named Orbit Fab that reckons it can charge $20 million to top up your tank.
The American upstart believes there's a market for its planned service because the growing number of companies launching satellites want their hardware to have longer working lives. One way to achieve lengthier missions is orbital refueling.
Orbit Fab is therefore hoping to build, for want of a better word, a depot 300 km from Earth in geostationary orbit that can send out shuttles each containing, say, 100kg of hydrazine to visiting satellites and potentially other spacecraft that need a refill and can plug into the tanks.
And suitably capable spacecraft could dock with the depot to pick up fuel for themselves or to take to satellites and other craft, SpaceNews reported.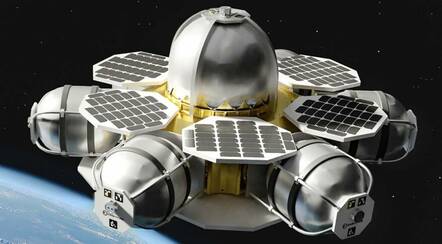 Orbit Fab's rendering of its refueling station ... Click to enlarge
Co-founder and chief development officer Jeremy Schiel said government agencies and private operators have "expressed explicit interest to get refueled in the next three to five years." He also said that the design of the fuel depot system is "basically done," and that the company is now working on designing its fuel shuttles. 
"It's much easier to come up with a price for GEO [geostationary orbits] because it's one orbit," Schiel explained. "You're going to have to have a different price point on each different orbit in low earth orbit because of how you're going to get there. We're tackling the easy commercial price of GEO first and then we'll start working our way down."
Astroscale, an orbital debris removal biz, is the only customer that has publicly signed up for the satellite refueling service. Orbit Fab has committed to supplying 1,000 kilograms of xenon propellant to top up Astroscale's Life Extension In-Orbit (LEXI) satellites, which are capable of being refueled in space and are scheduled to launch in 2026 into geostationary orbit. 
These satellites, and other future craft, need to include Orbit Fab's Rapidly Attachable Fluid Transfer Interface (RAFTI) ports that the fuel shuttles will use to top up visiting craft.
Spacecraft in geostationary orbits today won't have RAFTI ports, and Orbit Fab will need to come up with another method of refueling them. Schiel said the startup will have to rely on third-party vehicles that are compatible with what's already in space as well as Orbit Fab's hardware, such servicing spacecraft built by Northrop Grumman or Astroscale.
"They can go service the legacy satellites and we can service the servicing vehicles that are coming online," Schiel said. "Eventually, when everyone's flying a RAFTI fueling port, we can start going directly to them."
The Register has sought further comment from Orbit Fab. ®