This article is more than 1 year old
Internet pranksters send hundreds of cabs to Moscow street, cause gridlock
'Improved algorithm' set to keep miscreants at bay, web-based taxi service promises
The taxi offshoot of troubled Russian tech giant Yandex has been hit by online pranksters, who yesterday ordered dozens of cabs to a single address in central Moscow, resulting in a major traffic jam.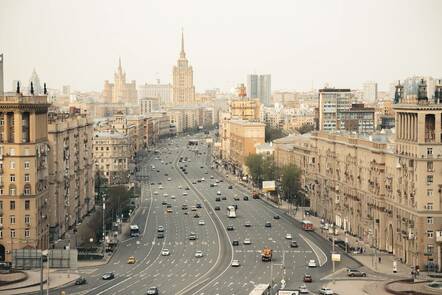 Kutuzovsky Prospekt sporting its usual weekday traffic
Whether it was a hack or simply gaming the Yandex Taxi app, built by "Russia's Google" Yandex, miscreants were seemingly able to send available vehicles for hire to the same address. Hundreds of them, by the looks of it.
Around three lanes of Moscow's Kutuzovsky Prospekt — a major multi-lane road that runs east to west leading into the centre of the Russian capital, and is so broad it rarely has traffic jams — were filled with vehicles whose drivers were all apparently looking for the same fictional fare. The blockage apparently took 40 minutes to clear.
In a statement, Yandex Taxi said: "On the morning of September 1, Yandex Taxi encountered an attempt by attackers to disrupt the service - several dozen drivers received bulk orders to the Fili district of Moscow.
"The security service of Yandex Taxi promptly stopped the attempts of artificial congestion of cars and improved the algorithm for detecting and preventing such attacks to prevent similar incidents in the future."
The issue was resolved in less than an hour, the company said, which isn't bad considering a Moscow commute can take much longer.
The company's "algorithm for detecting and preventing such attacks has already been improved," the spokesperson confidently predicted.
The identity and motives of the web wags have not been revealed, although some have speculated they could have been linked to the Kyiv administration or its Western allies, or an attacker or attackers targeting Yandex specifically. Anyone, basically: Russia isn't everyone's favorite right now.
Yandex's CEO resigned a few months back in the face of EU sanctions, and the electricity company supplying energy to its only international datacenter won't even switch the lights on.
In its official journal earlier this year, the European Union cited evidence from Lev Gershenzon, the former head of Yandex News, whom it quoted as saying that Yandex is a "key element in hiding information" from Russians about the war in Ukraine, as a reason for imposing sanctions against several of its executives. The company has pointed out that there are no official sanctions against the corporation itself.
The IT arm of Yandex controls 60 percent of the country's search market, and is, under Russian law, "obligated to show only those publishers that are listed in the official register of Russia's media regulator, known as Roskomnadzor," according to a company rep.
Then again, it could be some bored teenagers who under-estimated their ability to pull off this spectacular prank. But this being the 21st century, the evidence of the physical outcome spread online and will be there ad infinitum, for all we know. Or at least as long as Twitter keeps this post online. Whichever comes sooner.
But this is just the start. We have an automated future to look forward to. Chinese web giant Baidu plans to introduce its autonomous taxi service to 65 cities by the year 2025, then add another 35 cities by 2030.
Anyone looking for further cause to scream, "what fresh hell is this", will find it by reflecting on the fact the introduction of driverless taxi rides to the public in San Francisco led to a mass pileup of vehicles blocking several lanes of incoming traffic downtown. ®