This article is more than 1 year old
China orders tech companies to 'improve traceability' of users to control 'rumours and false information'
PLUS: Australia mints a physical crypto-coin; Alibaba Cloud claims world's biggest DC; India's space airbags; and more
China will conduct a three month blitz to cleanse the local internet of "rumors and false information".
The nation's Cyberspace Administration last Friday announced the plan, which calls for local tech companies to improve their ability to identify the source of rumors and fake news, then punish account-holders who share it with warnings, bans, and permanent suspensions.
If a platform can't get its act together, Beijing will ban it from accepting new users and the platform can expect to be publicly named and shamed.
Local and regional governments have been told to increase their monitoring activities to assist the push, and to improve their efforts to refute information Beijing deems inappropriate.
China's conducted many such blitzes in recent years, with mixed success. The significance of this one is probably its timing: on October 16th the Communist Party Of China will conduct its 20th National Congress, an event at which Chinese president Xi Jinping is expected to be granted an unprecedented third five year term as the nation's leader.
Acting to minimize online comment that could in any way take the shine off the Congress, and the decisions it makes, therefore appears to be the aim of this new blitz.
Yet as China already requires registration for many online services using verified real names, announcing the blitz ahead of the Congress also demonstrates some weakness in that regime.
Pakistan rapidly rebuilds flooded telco infrastructure
Pakistan last week experienced extensive flooding across a third of the country, and the nation's Telecommunications Authority scrambled to restore service to help authorities and citizens cope with the tragedy.
As of August 28th, the Authority said 3,386 sites - 6.55 percent of network capacity – was unavailable due to the floods.
The sites currently non-functional are mostly inaccessible and under water due to floods. Combined efforts are being made with respective civil and military authorities for access to under water sites and dewatering.

— PTA (@PTAofficialpk) September 3, 2022
By September 3rd, repairs to all but 568 sites had were complete and on the 5th just 429 sites remained offline and the Authority said all fiber backhaul had been restored.
The European Space Agency has posted images showing the extent of the 1flooding.
📷 With much of Europe on #drought alert, this @CopernicusEU #Sentinel1 image on 30 August shows the extent of flooding affecting #Pakistan. Heavy monsoon rainfall – 10 times more than usual – has led to more than a third of the country being underwater 👉 https://t.co/KoudvViR4l pic.twitter.com/FVn1uczmJg

— ESA (@esa) September 1, 2022
Alibaba claims 'World's biggest datacenter' crown from Google
Chinese media reports that Alibaba Cloud has opened what it claims is the world's most powerful data center.
The "Zhangbei intelligent computing center" will reportedly run AI workloads.
Alibaba Cloud has rated the facility at 12 Exaflops (12 quintillion floating-point operations per second), and claims it surpasses the nine exaflop cluster Google announced in May 2022.
Australia issues physical 'crypto' coin
Australia's mint has issued a coin bearing four cryptographic puzzles.
The commemorative coin was struck to commemorate the 75th anniversary of the Australian Signals Directorate (ASD), the nation's signals intelligence, cyber warfare, and cyber security agency.
ASD staff had a hand in developing the four puzzles the coin contains.
All were reportedly cracked by a fourteen year-old boy within an hour of the coin's design being revealed.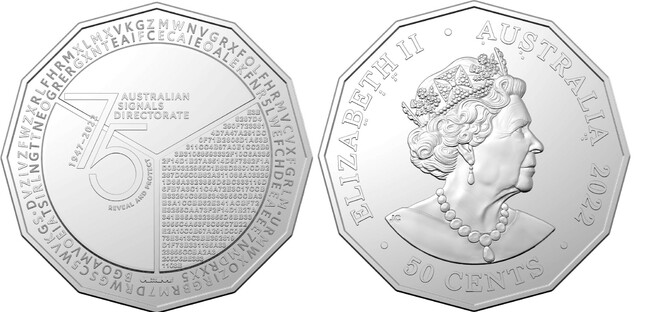 The "crypto" coin. - Click to enlarge
The ASD is reportedly interesting in contacting the boy with a view to steering him towards a career with the agency.
India tests inflatable brakes authorities say will ease Mars landings
India's Space Agency (ISRO) has successful tested an "Inflatable Aerodynamic Decelerator" (IAD) that it claims will improve the changes of safe landings on Mars and Venus.
The IAD occupies just 15 liters of space and was packed into the nose cone of a sounding rocket. When the Kevlar device deploys, it inflates into three concentric toroids with a diameter of 1.3 meters. Once inflated, the IAD provides sufficient deceleration that ISRO believes the device will one day prove suitable for roles "like recovery of spent stages of rocket, for landing payloads on to Mars or Venus and in making space habitat for human space flight missions."
New wave of COVID-19 in China again threatens tech supply chain
China's zero COVID policy has again seen tech supply chains threatened.
The coastal city of Shenzhen, a major tech hub, last Friday imposed movement restrictions for at least the weekend. The city of Chengdu, where factories have already been shuttered by power shortages brought on by a heatwave, has since gone onto lockdowns.
Beijing itself is currently under COVID restrictions.
Major tech companies in China and beyond reported that extensive lockdowns in the first half of 2022 contributed to supply chain woes and depressed consumer demand. That double whack to business activity soured China's economy, contributing to a worsening of the global economic outlook.
Huawei will this week launch a new flagship smartphone that devices boss Richard Yu has said will "piece the sky".
Yu used that phrase in a post Chinese social media service Weibo.
Chinese press report the phrase was a reference to the ability to send short messages over China's Beidou satellite navigation constellation. It is unclear if the capability will be an everyday feature, or an emergency backup.
AWS expands across the region
Amazon Web Services last week opened a region in the United Arab Emirates.
The me-central-1 region has three availability zones and offers the following EC2 instance types: C5, C5d, C6g, M5, M5d, M6g, M6gd, R5, R5d, R6g, I3, I3en, T3, and T4g.
AWS also added edge locations Hanoi and Ho Chi Minh city, Vietnam, last week.
Microsoft's Azure cloud opened a region in Qatar two weeks earlier. AWS already operated a Bahrain region before its UAE opening.
In other news…
The Register's coverage of the APAC region last week included Japan pledging to do away with laws that require floppy disks when sending data to the nation's government.
In India, a Judge ordered chat app Telegram to reveal the identity of alleged copyright infringers. India's government also signalled an intention to quadruple its electronics industry's output in just three and a half years.
Also in India, the nation's largest mobile carrier revealed a plan to make its allied e-commerce service available through Meta's WhatsApp messaging service. The deal is Meta's first major effort to use e-commerce to monetize WhatsApp.
Singaporean authorities floated a plan to ban retail investors from using credit to acquire cryptocurrency.
In Australia, it emerged that Crypto.com mistakenly paid $7.2 million to a local customer, who shared their unearned loot with friends and family – one of whom bought a house! Crypto.com sued and won: the owner of the house was ordered to sell it and send the proceeds to Crypto.com. ®