IBM to book $5.9b non-cash charge to transfer its pension liabilities
100k staffers and their beneficiaries to be looked after by Prudential Insurance, Metropolitan Life Insurance
IBM will book a one-off non-cash pre-tax pension settlement charge of $5.9 billion in its calendar Q3 after handing pension duties to two life insurance businesses.
As per the agreement, IBM and pension plan administrator State Street Advisors Trust Company, said the acquisition of annuities from Metropolitan Life Insurance and Prudential Insurance Company of America will see it shift $16 billion in pension obligations for 100,000 members and their beneficiaries to the insurers.
"Under the group annuity contracts, each Insurer has made an irrevocable commitment, and will be solely responsible, to pay 50 percent of the pension benefits of each Transferred Participant that are due on and after January 1, 2023. Prudential will be the lead administrator. The transaction will result in no changes to the amount of benefits payable to the Transferred Participants," said IBM in an SEC filing.
"The purchase of the group annuity contracts was funded directly by assets of the Plan and required no cash or asset contributions of the Company. As a result of the transaction, the Company expects to recognize a one-time non-cash pre-tax pension settlement charge of approximately $5.9 billion ($4.4 billion net of tax) in the third quarter of 2022. The actual charge will depend on finalization of the actuarial and other assumptions."
As noted by Bloomberg, insurers are keen on pension risk transfer agreements because they accrue assets for investment.
In a blog post, IBM says it has "taken actions over the last several years to reduce the risk profile of its worldwide retirement-related plans, while at the same time increasing the funded status of the plans. Exiting 2021, IBM's US qualified defined benefit pension plan (the 'Plan') was funded at 112 percent."
It added: "The overall funded status of this plan meant the transfer of a portion of the pension liabilities and assets to an insurance biz was the "logical next step to further de-risk retirement-related plans. This change eliminates the potential for IBM to make future cash contributions to fund the pension obligations being transferred to the Insurers."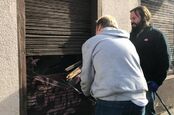 Das geeks hit crowdfunding target: IBM mainframes are coming home
READ MORE
The $16 billion of pension obligations represents over 40 percent of the plan's obligations, Big Blue revealed.
This chain of events comes months after IBM pulled funding for employee retirement clubs, causing many of them to subsequently fold. The only reprieve given was for the Hursley Clubhouse, based in the same UK village that houses IBM Labs, which has performed R&D for the company since the 1950s. ®