Microsoft debuts Windows 11 2022 Update – now with features added monthly
Oh. Joy.
Microsoft has released the Windows 11 2022 Update – and promised that it will both continue issuing annual big bang releases and start to add new features on a monthly cadence.
Panos Panay, Microsoft's executive vice president and chief product officer for Windows + Devices, has billed the update – also known as the 22H2 update – as offering "many subtle, but important changes that come together to help you be your most productive and your most creative."
His announcement this week of the upgrade's general availability talked up the operating system's faster and more accurate search, improvements to the Snap layouts feature that automatically arranges multiple windows to make them all visible, and videoconferencing features that remove background noise and let cameras follow participants as they move.
The update also brings in so-called Focus features, which are supposed to make the desktop less distracting when you're trying to work. These features will hide taskbar badges and notifications for a period of time set by you.
The OS has also been given a new security feature called Smart App Control that predicts whether an app is safe to run using the "43 trillion security signals" Microsoft states it gathers every day.
"Windows 11 uses the power of AI to generate a continually updated app control policy that allows common and known safe apps to run while blocking unknown apps often associated with new malware," Panay's post posits. Smart App Control only works on fresh Windows 11 installs.
Another security enhancement is the Microsoft Defender SmartScreen which figures out when users enter Microsoft credentials into a malicious application or compromised website and warns them not to do something so risky.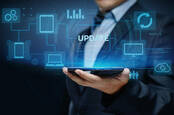 Microsoft rolls out stealthy updates for 365 Apps
READ MORE
Virtualization-based security (VBS) and hypervisor-protected code integrity (HVCI) are now on by default. These use virtualization to protect sensitive parts of the Windows OS from the rest of the system.
Perhaps the most significant change to the OS is that Microsoft may now add features to it every month.
"We do this by leveraging the variety of update mechanisms we have in place including servicing, and Microsoft Store updates," Panay explains. In October 2022, for example, the Windows 11 File Explorer will add a tabbed interface, suggest that phone numbers and dates be included in events added to the Windows Calendar app, and add an "overflow area" to the Task Bar that "allows you to view all your overflowed apps in one space."
Also coming in October is a feature that allows Windows 11 to "discover and share to more devices including desktops using nearby share."
That sound you hear? Windows admins making sure this auto-update feature is completely, utterly, and irrevocably turned off on the devices they manage – because few businesses will welcome the sudden arrival of features, such as easier wireless content sharing.
The Windows 11 2022 Update is available now, with further instructions here. Windows 11 will indicate when it is ready to receive the update, or users can force the issue by checking for updates in Windows Update.
Microsoft may not, however, deliver updates immediately, instead preferring to use "regional carbon intensity data" to determine if it is possible to "schedule installations at specific times of the day when doing so may result in lower carbon emissions because a higher proportion of electricity is coming from lower-carbon sources on the electric grid."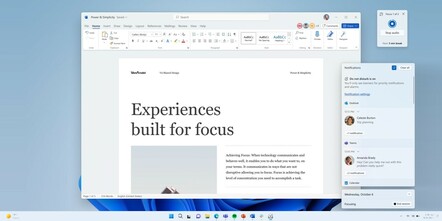 Focus features in Windows 11 22H2
Updates will also be smaller. Microsoft claims its internal tests show download size has been reduced by ~450MB or 14 percent, install disk space has shrunk around eight percent to or 399MB, and peak disk usage during upgrades is down by ~849MB or 11 percent.
Another notable change is an upgrade for the Windows Subsystem for Android. Microsoft promises it now delivers "2-3 times faster graphic performance with hardware acceleration, DRM video support, improved input handling across touch, mouse and keyboard, and several network and security improvements."
Microsoft's partnership with Amazon.com's Android app store has also expanded to reach 31 nations. Panay reckons that translates into an opportunity for developers to write Android apps and find a colossal audience among Windows users. ®