Microsoft leaves the Office, rebrands everything as 365
Now what does that flattened Möbius strip logo remind us of?
Logowatch MS Office changed its name to Microsoft 365 years ago, but now appears to be doing a mastercleanse to fully scrub away the brand and embrace the entire suite as "productivity" rather than Office apps.
Microsoft already renamed its Office 365 suite to Microsoft 365 in 2017, but now Office.com – the domain that hosts the web-based version of Office – the Office mobile app and more will get a splash of paint in a push that Redmond says will include the addition of more features.
Excel, Outlook, Word, and PowerPoint will all sit under the Microsoft 365 brand and, judging by the logo on the Microsoft announcement, the centerpiece will be a fresh emblem.
The enterprise software maker certainly seems keen to ditch the office associations as more and more corporations adopt a hybrid or fully WFH setup.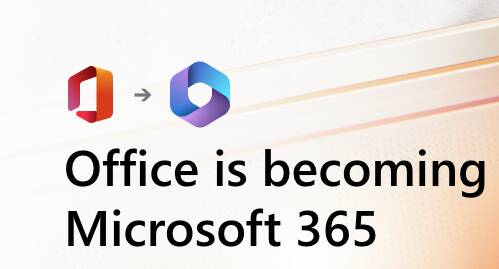 Screenshot of the new logo
That deep orange "O" for Office – stylized into that squarish shape with the weird gap – will disappear in favor of a blue, not quite flat-folded Möbius strip that represents the endless hours of a work-from-home corporate drone.
Reminiscent of the Google Drive logo circa 2012-2014 – the current one has Venn diagram-esque overlapping transparencies instead of folds – the logo includes a blue and purple gradient that switches as the ribbon turns inwards and outwards.
The software giant told users nothing would happen to their existing accounts, profiles, subscriptions, and files. The old Office app will automatically update with the new icon and name from November onward.
The company enthused:
Over the last couple years, Microsoft 365 has evolved into our flagship productivity suite, so we are creating an experience to help you get the most out of Microsoft 365. In the coming months, Office.com, the Office mobile app, and the Office app for Windows will become the Microsoft 365 app, with a new icon, a new look, and even more features.
There are some new look soft graphics at the top of the blog, but the whole revamp won't be rolled out until November. Let us know what you hope to see on our poll or weigh in on the comments forum below. ®