Foxconn shows off pair of EVs, boasts of bulk orders for last year's model
Now selling vehicles others can brand, plus software any auto-maker can access
Hon Hai Technology Group, the electronics manufacturer to the stars better known as Foxconn, has debuted two new electric vehicle models and production models of a prototype due to roll on Taiwanese roads in 2023.
The new kit emerged on Tuesday at Hon Hai's annual research and development showcase. The new EVs include the Model V, the first made in Taiwan pickup, capable of carrying a payload of up to a ton and towing three tons.
The second new EV is the Model B and is a sporty crossover hatchback targeted at younger generations. It has a drag coefficient of 0.26, a cruising range of 450 kilometers (280 miles), and accelerates from 0 to 100 kilometers per hour (0-62mph) in 6.6 seconds.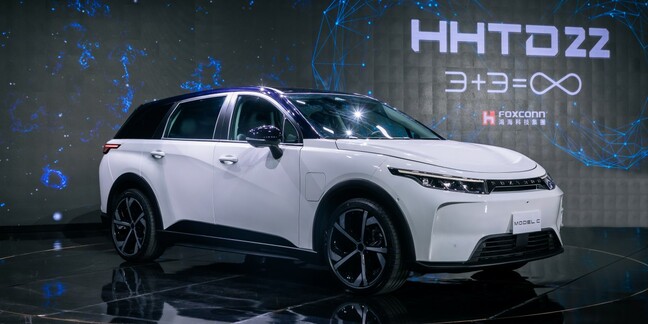 Foxconn Model C EV truck - Click to enlarge
The announcements mean Foxconn how has five EV models on its books, one of which – the Model C family SUV – will go into production in 2023 as the "Luxgen n7 by Yulon Motor."
Yulon Motor is a Taiwanese automaker that licenses designs. That's exactly how Foxconn wants to do business in the car caper, and the company was pleased to report today that Yulon's version of the Model C garnered 15,000 orders within 32 hours of opening preorders last month.
The Model V, B and C are slated to be produced in Foxconn facilities in Thailand, Taiwan and the United States, with "further negotiations" ongoing in Indonesia and India.
The Taiwanese company also showed off its self-developed electric vehicle software platform, HHEV.OS. Foxconn said it meets safety requirements while "reducing the time for software and hardware integration and development in the industry." The company wants to make HHEV.OS the standard for the MIH software platform, an open platform made by the company and announced three years ago.
"At this very moment we are diving into the electric vehicle industry. We will be more globalized and more innovative in terms of design, and also the Hon Hai speed," said company founder Terry Gou during the live event [VIDEO] known as Hon Hai Day Tech Day.
"We started from manufacturing but are now moving on to technology Hon Hai," said Gou.
The company did not want to be seen as competing against brand-name automakers, however. It referred to itself as a "reliable and trusted partner in manufacturing and design," offering development and manufacturing on a contract basis.
Foxconn has also formed a joint venture with Yulon Motors called Foxtron, to sell an electric bus.
Traditionally known for manufacturing components for the likes of Apple and Dell, Hon Hai also has a hand in semiconductors. The company completes 30 percent of its production outside of China and has been looking to India for opportunities. In February it embarked on a joint venture on the subcontinent under the national electronics manufacturing subsidy scheme.
It's also not been shy about interest in AI, robotics and autonomous driving, long recognizing a need to diversify its product portfolio, not just its manufacturing sites. ®