Mask gizmo wirelessly transmits data on wearer's health
Ongoing COVID concerns inspire 'cMaSK' tech to monitor breathing, temperature, and fit
Scientists in Canada have developed an electronic device to fit inside a surgical mask which they claim helps monitor the wearer's health and how well the mask is fitted.
The electronic device clips inside a mask the user provides, so it is reusable and can be transferred from one mask to another. Using a Bluetooth connection to a smartphone, the device periodically pushes biomedical data to a PostgreSQL database through the web.
The research team, led by Canan Dagdeviren, associate professor at Massachusetts Institute of Technology Media Lab, were able to collect and record signals from the sensory face mask – dubbed cMaSK – relating to skin temperature, humidity, verbal activity, breathing pattern, and fit of the mask.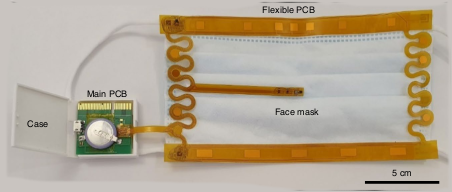 A conformable sensory face mask for decoding biological and environmental signals. Credit: Dagdeviren et al, Nature
"We also developed a machine learning algorithm that can be used to reliably decode the face mask position," said the paper published today in Nature Electronics.
"The strength of this modelling approach is that it demonstrates that regardless of the user, the same position of the cMaSK falls into the same cluster, and a single unified gender model could predict the mask position of unknown users."
The research showed the electronics could be deformed and return to their original shape, and can be used with commercial face masks to decode human behaviors, vital signs and status of the face mask.
"We showed that the cMaSK can simultaneously monitor multiple signals related to biological and environmental conditions, including the position of the face mask, skin temperature, humidity, verbal activity and breathing pattern," the paper says.
The researchers conclude that the cMaSK provides a platform for the development of smart face mask systems that could offer feedback and can actively assist users in optimizing the face mask fit.
"More broadly, our work offers a modular, customizable research tool for studying environmental and health technologies in real-world settings where human behavior may affect performance, broadening our understanding of the key factors that influence mask-wearing behaviors and the implications for human health and well-being," the paper says.
"The framework that we have developed can also be implemented in designing conformable, customizable electronics for other textile-oriented garments including bras and T-shirts."
And if that doesn't make you feel uncomfortable, we don't know what will. ®