Team Interpol: Metaverse Police
Attempted revival of virtual reality is only just beginning and already the cops just want to take a look around
Interpol this week unveiled what it has called a Metaverse for police around the world while signalling a lawless virtual universe will not be tolerated.
The Interpol Metaverse is "fully operational" and available from the international police force's cloud service, we're told. To us, it seems to be a shared virtual reality space that you connect into using a suitable VR headset. Once in, you can visit a virtual version of the organization's headquarters in Lyon, France; interact with other cops' avatars just as they can interact with yours; and take training courses, such as learning all about forensic investigations.
The police have got themselves a 3D chat room. Well, at least it saves them a trip to France.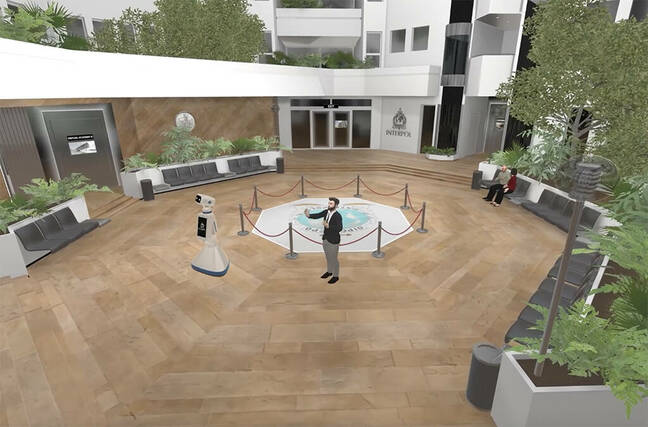 What Interpol's HQ looks like in its virtual form ... Yeah, brilliant. Source: Interpol
"The Metaverse has the potential to transform every aspect of our daily lives with enormous implications for law enforcement," said Madan Oberoi, Interpol's executive director of technology and innovation, in a canned statement.
"In order for police to understand the Metaverse, we need to experience it."
Which rather implies the cops are taking an interest in patrolling or probing the 'verse. Indeed, the whole launch of the service is geared around concerns that crimes are being organized and committed within virtual reality, and the police want to be able to intervene and investigate just as they would in the real world. Facebook's Meta and other tech giants are trying to revive the VR fad with software and headsets, all to get people working, shopping, and watching ads inside virtual Metaverse shared spaces.
Ominously, Interpol said it had formed an "expert group [to] represent the concerns of law enforcement on the global stage" and ensure VR land is "secure by design." It may be too late for that.
The plod's virtual service was revealed at the 90th Interpol General Assembly, held in New Delhi, India. From a video of the launch, you can be assured the Metaverse, however you define it, is still a bunch of people sitting around in business casual attire thumbing at touch controllers while masked with headsets.
Are they attending an avatar-led class on airline passenger screening? Or busting a Nike NFT crime ring? We'll never know but the sense sweeping of justice is palpable.
While fraudsters have moved some phishing and other scams into these reemerging virtual reality spaces, physical crimes including sexual assault are happening virtually in these digital worlds, too.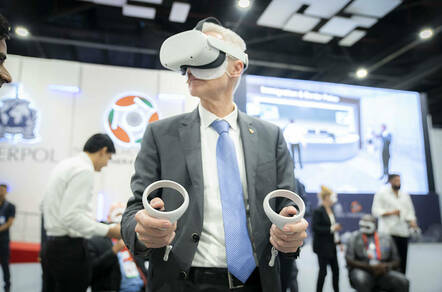 Interpol Secretary General Jürgen Stock dons a VR headset at his police org's meeting in India
It's not just Interpol with concerns: the World Economic Forum, at its annual conference in Davos this year, launched an initiative with Microsoft, Meta, and others to govern the Metaverse.
As potentially more people use Metaverse technology, international police expect crime to follow in those make-believe spaces. But what can be considered a crime in a virtual world? Hateful language? Terror attack planning? Fraud? Some kind of phishing? Should murder in the Metaverse have physical-world criminal consequences? Some seem to think it should be.
"By identifying these risks from the outset, we can work with stakeholders to shape the necessary governance frameworks and cut off future criminal markets before they are fully formed," Oberoi said. "Only by having these conversations now can we build an effective response."
In its announcement, Interpol touted the Metaverse's "many benefits" for law enforcement such as remote networking, training, and "collecting and preserving evidence from crime scenes." It seems that the international org has already been doing much of this already via video calls and the like.
But maybe donning VR goggles makes it more fun and games. Or at least gamelike. ®