This article is more than 1 year old
Uncle Sam says Chinese agents tried to interfere with Huawei criminal case in US
Beijing also sought to recruit academics and officials in America, and more claimed
American prosecutors on Monday accused 13 people of committing espionage-linked crimes in the US on behalf of the Chinese government.
Their charges, spread over three separate cases, include: attempting to force a Chinese national in America to return to China; attempting to interfere with the federal criminal prosecution of a Chinese company, said to be Huawei; and attempting to recruit US academics and government officials in the US to spy for China.
Ten of those charged, the Justice Department says, are Chinese intelligence and security agents. Two individuals have been arrested in connection with the charges.
The cases are as follows:
United States v. Quanzhong An, et al. in the Eastern District of New York, is an eight-count indictment [PDF] unsealed on Friday against seven nationals of the People's Republic of China (PRC) – Quanzhong An, 55, of Roslyn, New York; Guangyang An, 34, of Roslyn, New York; Tian Peng, 38, of the PRC; Chenghua Chen of the PRC; Chunde Ming of the PRC; Xuexin Hou, 52, of the PRC; and Weidong Yuan, 55, of the PRC.
Two of those charged, Quanzhong An and Guangyang An, were arrested on Thursday, and the remainder are still at large. They're alleged participants in Operation Foxhunt, a PRC security initiative to force purported fugitives in foreign countries to return home. According to Uncle Sam, Quanzhong An held a US green card as a Chinese citizen, and his daughter Guangyang was a US citizen who was also born in China.
United States v. Dong He, et al. in the Eastern District of New York, is a complaint and arrest warrant [PDF] against Dong He (aka Guochun He and Jacky He), and Zheng Wang (aka Zen Wang), on two counts of money laundering.
The pair are accused of attempting to bribe a US government employee to steal files associated with a federal case against a Chinese company that Bloomberg has identified as Huawei. The individual being bribed acted as a double-agent and provided details to the Feds.
Uncle Sam charged Huawei, several subsidiaries, and its CFO Meng Wanzhou with conspiring to steal trade secrets in January, 2019, allegations that were expanded in a superseding indictment the following year. Meng, detained in 2018 by Canadian authorities, was ultimately released in September 2021 in exchange for admitting having lied about Huawei's sanctions-busting involvement with Iran.
At a Justice Department press conference on Monday, Assistant US Attorney Alexander Solomon declined to confirm that the unnamed company mentioned in United States v. Dong He, et al. was Huawei.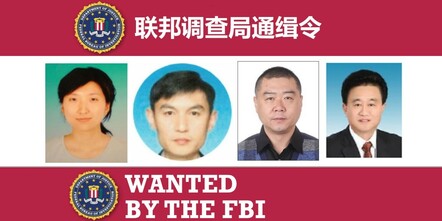 Wanted: Chinese nationals (from left) Dong Ting, Tian Peng, Wang Qiang, and Chunde Ming are among those accused of crimes in America. Source: US DoJ
And United States v. Wang Lin et al., in the District of New Jersey, is an indictment [PDF] against four Chinese nationals, three of whom are said to be intelligence officers for China's civilian intelligence agency, the Ministry of State Security.
Wang Lin, 59; Bi Hongwei, age unknown; Dong Ting (aka Chelsea Dong), 40; Wang Qiang, 55; and others allegedly participated in an effort from 2008 through 2018 to recruit US academics and government officials as assets – to provide information, materials, and assistance to advance PRC intelligence goals. Lin and others allegedly posed as legit academics as cover for their operations.
"As these cases demonstrate, the government of China sought to interfere with the rights and freedoms of individuals in the United States and to undermine our judicial system that protects those rights," said US Attorney General Merrick B. Garland in a statement. "They did not succeed.
"The Justice Department will not tolerate attempts by any foreign power to undermine the Rule of Law upon which our democracy is based. We will continue to fiercely protect the rights guaranteed to everyone in our country. And we will defend the integrity of our institutions."
At the press conference, FBI Director Christopher Wray said while these three cases appear to be unrelated, "each of these cases lays bare the Chinese government's flagrant violation of international laws as they work to project their authoritarian view around the world, including within our own borders."
"In all three of these cases, and frankly, in thousands of others, we found the Chinese government threatening established democratic norms and the rule of law as they work to undermine US economic security and fundamental human rights, including those of Americans," he said. "We also see a coordinated effort across the Chinese government to lie, cheat and steal their way into unfairly dominating entire technology sectors, putting competing US companies out of business."
Asked to elaborate on cases involving the PRC and what this says about the potential for election manipulation from China and other state actors like Russia, Wray said, "When I last looked, we were opening a new China counterintelligence investigation about every 12 hours. And it's about a 1,300 percent increase from several years ago."
"As far as the election itself, the threat of any nation state to our election system to influence, to interfere, is something that we have to all remain vigilant about," Wray continued. "In many ways malign foreign influence, whether it's from the Chinese government, the Russian government, or other governments is not just an election cycle issue, but a 365-day-a-year problem."
The US concluded an investigation focused on PRC espionage called the China Initiative earlier this year. Assistant Attorney General Matthew Olsen said that, after a lengthy review, the Justice Department has "adopted a broader strategy focused on the range of threats that we face from a variety of nation states." ®