This article is more than 1 year old
KDE 5.26 gets a second point release (yes, already)
It's worth it, though. And it's easy to install the latest KDE on the latest Kubuntu
KDE 5.26.2 is out with an emergency fix for a memory leak – so if you already have the new version, you should update. If you don't have 5.26, we're here to tell you how.
The version first appeared on October 11 with a bunch of new features that we described when we looked at the beta in September. Version 5.26.1 followed a week later with some relatively minor bug fixes. Another week after that, version 5.26.2 is here, and sadly, the developers had to disable one of the fun new bits: animated wallpapers.
If you use Wayland, it's fine, but on X11 this leaks memory, and 5.26.2 turns the feature off. We suspect it will reappear in version 5.26.3 if the team can trace the leak.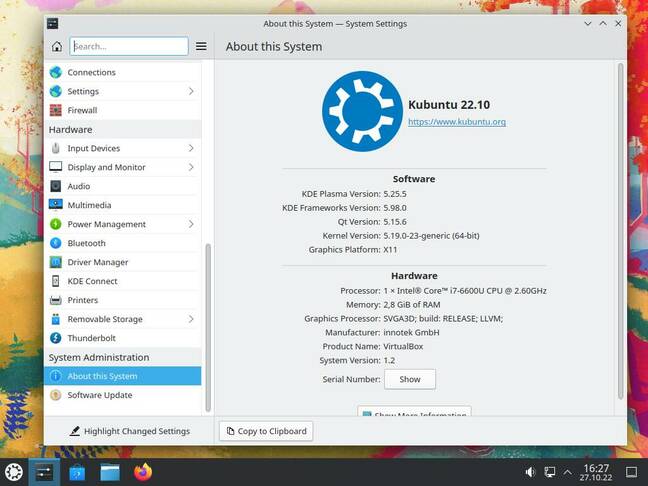 Kubuntu 'Kinetic' with the stock version of Plasma it ships with, 5.25.5, which is already past end of life and won't get any more bug fixes.
Unfortunately, Plasma 5.26's October release date meant it came out too late to be included in Kubuntu 22.10, which was released alongside the other remixes on October 20. As a result, Kubuntu 22.10 shipped with the previous short-term KDE Plasma release, 5.25. Specifically, with 5.25.5, the last version in the series.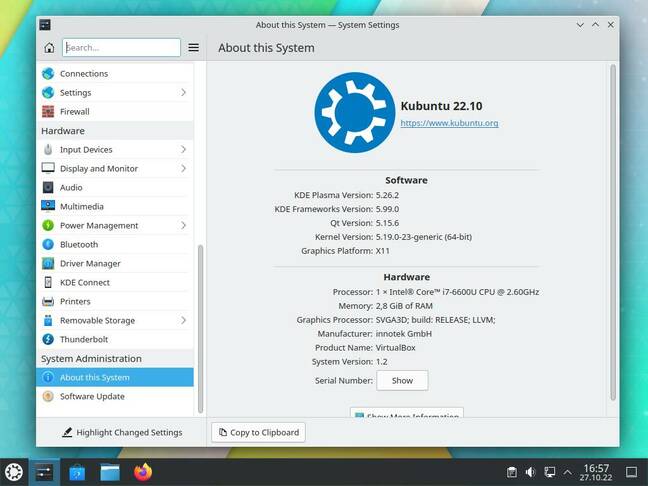 Kubuntu plus the shiny new Plasma 5.26... but without animated wallpapers on X11, at least for now
(Kubuntu 22.04, the current long-term support version, comes with Plasma 5.24, which is KDE's current LTS release and will get updates until KDE Plasma 6 appears, whenever that proves to be. So if you're happily running Kubuntu "Jammy" – or a relative such as Tuxedo OS – we suggest staying with Plasma 5.24.)
Since Plasma 5.25 has already passed end of life, and Kubuntu "Kinetic" will be replaced in April and goes out of support in July, you may as well opt in and get the latest bling. It's already packaged and ready in the Kubuntu Backports PPA.
First, do a full update, both to avoid any risk of conflicts, and to minimize the download size. A new desktop is quite substantial, about 200 to 300MB. If you are on a metered connection or have limited bandwidth, it may be best to avoid it.
There are two methods. You can install it via the Discover graphical app, but the snag is that we can't give you commands to copy and paste that way.
So we suggest doing it via the command line. It's very easy: just two commands, and the main instruction is right there on the PPA homepage. The first is to tell your computer to fetch software from this additional repo:
sudo add-apt-repository ppa:kubuntu-ppa/backports

As soon as you do this, you should get a notification that there are new updates. You can use the graphical tool if you prefer: click on the notification, and then click the "Update all" button at the top right.
Alternatively, do a full update from the command line:
sudo apt update ; sudo apt full-upgrade -y

Either way, Kubuntu will automatically install the new Plasma desktop. When it's done, reboot and enjoy. ®
Bootnote
If you want to free up some disk space afterwards, follow the instructions in our article about installing Ubuntu kernel updates from earlier in the year.