Porsche wants to sell you a rusty tailpipe soundbar for $12k
Here's hoping it doesn't come with factory-installed rattling for added authenticity
What is a Porsche fan to do when sitting on the couch, separated from their beloved ride by the confining walls of home, unable to gaze upon the beauty of the vehicle's… tailpipe? The answer: ogle this $12,000 soundbar with a Porsche 992 GT3 exhaust system strapped to it instead.
The specs on the 1.5m (5ft), 65kg (143lb) Porsche 911 Soundbar 2.0 Pro are exactly what one would expect from a typical expensive Bluetooth speaker, with a 2.1.2 virtual surround system and support for pretty much every premium streaming service available. 
While it can be showcased as a wall-mounted unit, it also comes with legs in case your walls can't support that much ostentation. 
This isn't the first speaker Porsche has designed, nor is it the first to feature the exhaust system of one of its automobiles, as the 2.0 in the new speaker's name eluded. The previous version of the 911 Soundbar, also produced in limited amounts over a few different releases, is far smaller and meant to sit on top of a surface. And it costs far less – $4,250 (£3,470) in the UK and US shops.
The older version is also arguably nicer looking as it appears Porsche took the time to clean and repaint the 911 GT3 exhaust systems used as a passive subwoofer extension in that model.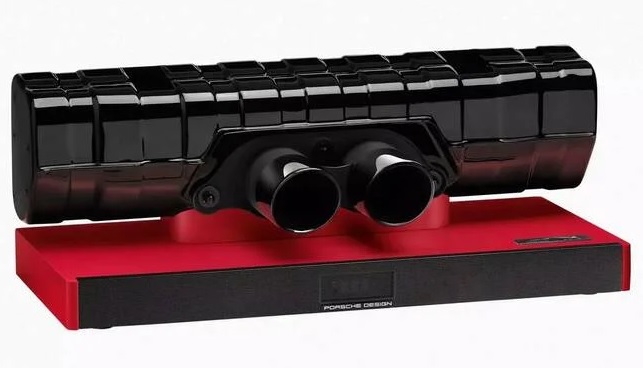 The smaller 911 Soundbar looks a bit more finished
Photos of the 2.0 soundbar show clean exhaust tips but with rusty welds and other signs of wear on the rest of the exhaust system – hardly the refined look you would expect from $12,000 sound equipment doubling as "wall art." Then again, straight off the car could be in vogue for collectors of Porsche bits right now.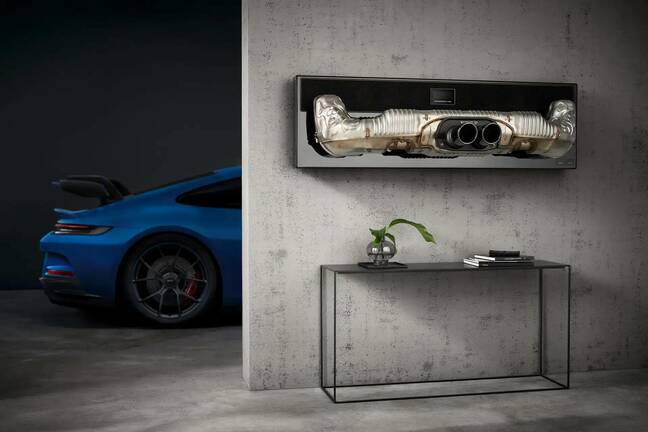 The 911 Soundbar 2.0 in its natural habitat: cold concrete walls adjacent to a garage
A fun little feature is the 300W power behind the massive speaker, which is the same as the capability of the original design. There's no arguing that 300W is a lot of sound, but again, for three times the price one might expect Porsche would have given the actual sound system a boost too.
As long as the rattling exhaust doesn't shake one's $74,000 maglev turntable out of alignment, this new piece of rusty wall art should go great in a man cave, but hard to place anywhere else.
Preorders for the Porsche 911 Soundbar 2.0 Pro are open now, with the speaker set to go on sale January 1. For those worried that they may not be able to get their hands on one of the 500 pieces being made, don't worry – two versions of the smaller 911 Soundbar that came out earlier this year in red and yellow are limited to just 50, and are still available on Porsche's accessories website. ®