Swiss drone-busting eagle squadron grounded permanently
Pilot project in Geneva ends potential danger to welfare of the birds
Yet another squadron of anti-drone eagles is being grounded after officials in Geneva, Switzerland decided advances in the technology made success rates uncertain and even dangerous for the birds to manage.
The so-called "eagle brigade" project took flight in 2017, and the eagles were trained to catch drones in mid-air to protect dignitaries in a city that often hosts international summits and the like.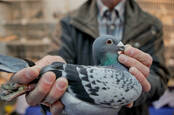 Pigeon fanciers in a flap over Brexit quarantine flock-up, seek exemption from EU laws
READ MORE
"The technological and strategic improvements in terms of the use of drones make this project using raptors too uncertain, even dangerous for the physical integrity of the eagles," the Geneva Cantonal Police told Le Matin Dimanche.
Two raptors – Altair and Draco – were trained by a falconer on how to intercept undesirable Unmanned Aerial Vehicles. Local police had bought the eagle eggs and hatched them.
Umberto Nassini, who led Geneva's Falcom Association, the unit that put the eagles through their paces, told the publication the closure of the project was disappointing.
"This represents around 100,000 francs of investment and hundreds of hours of work," he said.
Dutch police also toyed with the idea of developing a squadron of drone-busting eagles in 2016, claiming that talons were an effective weapon against a moderately-sized quadcopter. The Register has proof that they were correct.
At the time, a spokesman said: "The bird sees the drone as prey and takes it to a safe place, a place where there are no other birds or people."
The Dutch version was terminated in 2017 – before it got off the ground – after the local police decided that training the birds and expensive and more complex than first anticipated.
The UK's Met Police and Scottish police also considered in 2016 deploying their own flying corps to tackle the menace of UAVs.
A spokesman at the Met told us at the time: "As would be expected in an organization that is transforming we take an interest in all innovative new ideas and will of course be looking at the work of the Dutch police use of eagles."
Neither of those ideas took flight, likely because they realized it was an expensive project that generated some interested lines of coverage but wasn't commercially viable or effective.
There is, of course, another way to down a drone if you live in the United States. A man was cuffed years back when he used a shotgun to blast a camera-equipped quadcopter that was hovering over his house. ®