This article is more than 1 year old
Microsoft tests 'upsells' of its products in Windows 11 sign-out menu
Advertising? 'Anything for that sweet sweet KPI'
Updated Windows appears to be testing ads in the user session flyout menu (where you sign out, lock, or change settings) of Windows 11 preview builds, with clearly annoyed Windows Insider Albacore sharing screenshots on Twitter.
The feature test shows ads in the flyout menu, which prompts users to back up their files to OneDrive, among other promo messages.
Do we really need to stuff OneDrive promos in the user session flyout? Anything for that sweet sweet KPI 😭 pic.twitter.com/ZsQGmkntDS

— Albacore (@thebookisclosed) November 6, 2022
As with previous attempts to include ads in Windows, and in keeping with Windows current Insider testing model, it looks to be part of an A/B style push, so not every Insider will be treated to a view. Also, as it's a preview feature, it's comforting to know might not ultimately become a part of the Windows 11 production OS. Still it is sure to test the patience of its unpaid testers.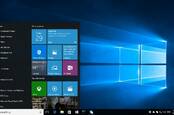 Windows 10 Pro Anniversary Update tweaked to stop you disabling app promos
READ MORE
Windows Insider Program Team Senior Program Manager Brandon LeBlanc was quick to defend the move on the Twitter thread as insiders piled on, noting that: "We documented we're trying some variations of this out with Windows Insiders."
LeBlanc appears to have been referring to a October 19 post where Microsoft (from its point of view) talked about the testing in Windows 11 Insider Preview Build 25227, with a terse bullet point under Changes and Improvements stating: "We are trying out a small change to the Start menu where some Insiders will see badging on their user profile notifying them that certain actions need to be taken."
But you can see why no one who read that bulletin a few weeks back would immediately think: "Oh, I've been clearly notified that Microsoft will be advertising paid products in the user session menu."
Albacore grumbled: "There's a difference between a bullet point about badging for 'certain actions' and proper screenshots of those actions turning out to be upsells."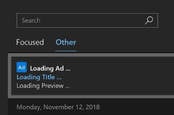 Microsoft slips ads into Windows 10 Mail client – then U-turns so hard, it warps fabric of reality
READ MORE
In March this year, testers spotted ads in Windows Insiders' File Explorer, prompting some users to suggest the team had "lost their damn minds."
LeBlanc at the time said the inclusion was a mistake, telling El Reg: "This was an experimental banner that was not intended to be published externally and was turned off."
The Windows 10 Start Menu also includes ads, although you can turn these off by toggling the Menu setting that reads, somewhat opaquely: "Occasionally show suggestions in Start."
Microsoft also infamously once tried to include third-party advertising in its Windows 10 Mail client, although, to paraphrase our headline at the time, it then "U-turned so hard, it warped the fabric of reality."
The Windows giant has previously said that some of these suggestions, though they're for its own products, might be helpful for new users unsure of how or where to back up, or whether they need a Microsoft account, however, if the user session menu feature makes it out of testing, the presence of the promos might be unavoidable because of where Microsoft put them. ®
Updated to add
When we asked Microsoft for comment, it confirmed the change was "documented" in the blog post, repeating the line: "We are trying out a small change to the Start menu where some Insiders will see badging on their user profile notifying them that certain actions need to be taken."