This article is more than 1 year old
Zoom adds email and calendar to its apps, to relieve the crushing burden of ALT-TAB
Also teams up with cinema chain AMC to let you Zoom at the movies
Zoom has decided to take on the software world's most dangerous mission: attempting to offer productivity tools that rival those bundled into Microsoft Office 365.
The vidconf company's efforts involve an email and calendar client baked into its core app. This, the company claims, represents welcome relief from "Toggle Tax" – Zoom-speak for the unspeakable drudgery and productivity destruction that is using ALT-TAB to move between applications. Zoom reckons clicking to move between functions in its app, rather than ALT-TABbing out to other software, will allow users "to better focus on their work."
Just like it's been possible to do in Outlook for aeons, or in tabbed browsers. Heck, even Lotus Notes has had multiple functions integrated in one client since the mid-1990s.
The client can connect to third-party email and calendar services, or Zoom's own – which it will offer free to customers in the US and Canada. Higher-tier customers can even use a custom domain.
Just like users of Google Workspaces and myriad other services have been able to do since a long time ago.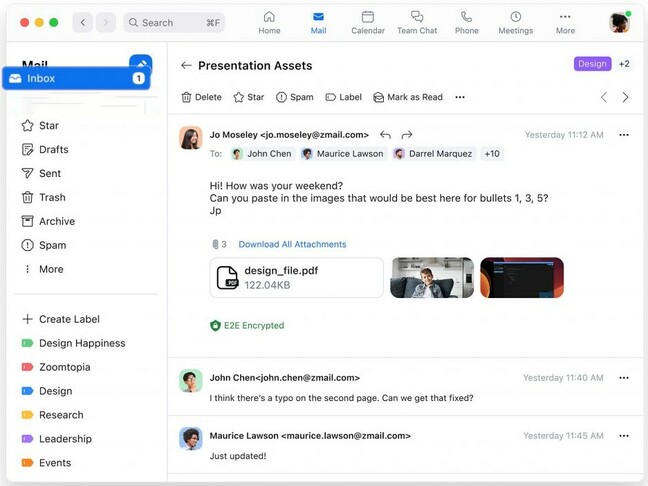 Zoom's client with integrated email and calendar – Click to enlarge
Zoom's also announced the creation of Zoom Spots – a "virtual co-working space" that will also be baked into the company's wares "to help foster inclusive discussions, keep colleagues connected, and bring the fluid interactions of in-person work to distributed, hybrid teams throughout their day."
A chatbot dubbed the Zoom Virtual Agent is also in the works, and will be integrated into Zoom's contact center products. Again, this is not a feature that will have rivals quaking in their boots (real or virtual), because integrated chatbots are not new in the contact center world.
Zoom therefore appears to be playing catch-up in multiple fields and it's not hard to see why: the likes of Teams and Workspaces already offer integrated experiences, are owned by deep-pocketed rivals, and the reduction in working from home surely means Zoom needs a stronger proposition than a slightly less annoying video conference system.
One new frontier for the company is a collaboration with cinema chain AMC, which will turn some of its US theatres into giant Zoom rooms.
AMC reckons this arrangement "will enable companies and other entities with decentralized workforces and customer bases to bring people from different markets together at the same time for cohesive virtual and in-person events and meeting experiences."
The chain is backing the quality of its screens and sound systems to make gathering in cinemas a satisfying experience.
The service will kick off during 2023, with three-hour blocks on sale for meetings during which AMC "will provide the necessary equipment for a fully functional Zoom Rooms experience, in the comfort of multiple movie theaters in multiple cities simultaneously."
The company reckons this will work in theaters offering between 75 and 150 seats, and suggests that your team might as well stay for a movie after the meeting ends.
Try doing that in Teams or Notes. ®