Microsoft to spend $1 billion on datacenters in North Carolina
Hopefully servers will sweat a little less than the ones in Doha
Microsoft is building four datacenters in North Carolina as part of a phased development that will see it invest at least $1 billion over the next decade.
The datacenter expansion will see Microsoft construct the facilities at sites in Conover, Maiden and two at Hickory in Catawba County, creating at least 50 new jobs, according to the Catawba County Economic Development Corporation.
Economic development agreements and incentive grants for the project were approved at a joint meeting this week by the Catawba County Board of Commissioners along with the elected councils of Conover, Hickory and Maiden.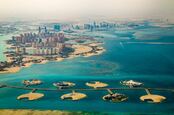 Microsoft Azure cloud region settles over desert in Doha, Qatar
READ MORE
The terms of the agreement include a guaranteed minimum investment over 10 years in Catawba County from Microsoft of $1 billion, with each municipality getting $332 million, with an additional $33 million to Hickory for its second site.
Microsoft will get performance-based incentive grants of 50 percent real property value and 85 percent personal property value, to be awarded over ten years. This means that over that period, the local government bodies will essentially pay back that proportion of Microsoft's property taxes, according to reports in local media The Charlotte Observer.
Microsoft's director of Community Engagement, Paul Englis, said the move demonstrated Microsoft's long-term commitment to the local community.
"We are proud to work with Catawba County, the EDC, and local cities to bring exciting development projects to the area," he said in a statement.
Catawba County Board chair Randy Isenhower said: "By choosing to develop a significant base of datacenter operations here, Microsoft has joined a long list of companies that recognize the value of doing business in Catawba County," adding that "This partnership was made possible due to the collaborative effort of Microsoft and the participating local governments, and we will continue to work closely together as this project comes to fruition."
Microsoft did not state what capacity the new datacenters will have once built, but they are set to take up a combined 687 acres of land between them. The expansion is likely to be additional capacity for Microsoft Azure cloud. We asked the company for more details.
Currently, Microsoft already operates more than 200 datacenters globally. Last year, Microsoft said it planned to build new facilities in at least 10 more countries, and that it aimed to construct between 50 and 100 new datacenters each year for the foreseeable future. ®