University staff voice 'urgent, profound concern' as Oracle finance system delays payments
Edinburgh Uni says it interrupted its financial processes in summer to test new system
The UK's University of Edinburgh continues to struggle to pay staff, students and suppliers months after the introduction of a new Oracle Fusion-based accounting and HR system.
The University's Senate, a representative body made up of students and academics, has written to the institution's management to voice "urgent and profound concern" over the new finance software, which left staff with no pay for weeks, suppliers' bills unpaid, and students at risk of homelessness.
According to a draft seen by independent news outlet The Ferret, the Senate says the University leadership has abandoned those awaiting payments at "a time of crisis."
A University of Edinburgh spokesperson refused to deny the content of the letter and admitted problems with the new system were ongoing.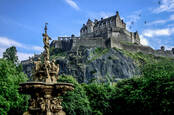 University of Edinburgh staff paid late due to Oracle ERP troubles
READ MORE
"The University recently implemented a new finance system, which required us to interrupt financial processing for a period over summer to allow us to test the system and transfer huge volumes of data. This has unfortunately led to a backlog of some payments," they said.
"We have increased the number of people in our finance team who are working tirelessly to process the increased volume of outstanding invoices. The University prides itself in fostering good relationships with suppliers, and we are doing our best to ensure all payments are processed as quickly as possible. We apologize to any of our students, staff or suppliers who are experiencing a delay in payment.
"We are acutely aware of the impact that this is having on some of our staff and students, and we will continue to keep them informed with progress. This week, we held a number of open meetings to listen to concerns from our community and provide an update on work that is being undertaken to address their issues. We apologise to all those affected and are working to ensure this will not happen again," the spokesperson said.
In June 2019, Oracle announced the university was moving to Oracle ERP Cloud and Oracle HCM Cloud, both applications based on the Oracle Cloud-based Fusion platform. Later that summer, integration partner Inoapps said it had won the deal to support the project. In January 2021, it was reported that the first stage of the project had gone live with finance and HR modules to follow.
Both Inoapps and Oracle have declined to comment on the troubled implementation.
According to a Freedom of Information request, Edinburgh University was using Oracle E-Business Suite (EBS) 12.1.3 for HR, payroll and self-service as of December 2014. The most recent upgrade of this system had taken place in November 2013.
ERP trouble seems to stalk Edinburgh. The city council was forced to abandon a Unit4 project – a decision which led to a supplier court battle – and opted instead to extend the life of its Oracle EBS system. ®