Amazon founder Bezos to donate 'majority' of $126bn fortune
Climate change goals? Tick. Upping wages and improving working conditions for warehouse staff? Come on Jeff, charity begins at home
Comment Amazon founder Jeff Bezos intends to hand out the "majority" of his wealth in support of good causes – although some have suggested he start closer to home with warehouse staff complaints about pay and work conditions.
Talking to CNN from one of his two homes in Washington DC, Bezos said he and partner Lauren Sanchez are "building the capacity to give away this money." Asked directly if he intends to donate his personal fortune while he still lives, generous Jeff responded: "Yeah, I do."
For those of a curious mind, Bezos's net worth is estimated to be $126 billion, including a circa $102 billion stake in Amazon, $9.15 billion in Blue Origin, $250 million from the Washington Post and billions in cash. He also has a sprawling real estate portfolio.
The eye-watering sums place the 58-year-old entrepreneur as the fourth richest man on the planet, a couple of positions higher than Warren Buffett, but below Elon Musk, Bernard Arnault and Gautam Adani.
The interview covered a variety of topics including Bezos's view on the state of political discussions, recession and Sanchez's intention to take an all-female crew into outer space. Oh and the couple's business partnership, the largesse of which was made public at the weekend.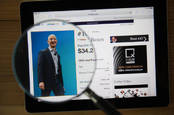 I've got way too much cash, thinks Jeff Bezos. Hmmm, pay more tax? Pay staff more? Nah, let's just go into space
READ MORE
Bezos and Sanchez confirmed a $100 million grant under the Bezos Courage and Civility award to country singer and all round good egg Dolly Parton, which will be used for philanthropic work.
As for where the rest of Bezos's personal fortune is to be directed he didn't say during the interview, nor did he divulge the specific percentage of his wealth that he's willing to distribute.
Bezos previously agreed to give $10 billion over the next decade to the Bezos Earth Fund, which aims to reduce the carbon footprint of cement and steel, highlight climate change risks to regulators, map tech to carbon emissions and monitor them, and build plant-based carbon sinks.
But giving away those billions won't be easy, said the billionaire.
"The hard part is figuring out how to do it in a levered way," he said. "It's not easy. Building Amazon was not easy. It took a lot of hard work, a bunch of very smart teammates, hard-working teammates, and I'm finding — and I think Lauren is finding the same thing — that charity, philanthropy, is very similar."
Bezos has had help in building an empire from taxpayers, many of whom are also his customers. According to a report, "Amazon.com's Hidden Worldwide Subsidies" (PDF), released in February by non-profit campaign group Good Jobs First, Amazon received a minimum of $4.7 billion in tax breaks over the previous 10 years. This was used for real estate – datacenters, offices, warehouses – as well as movie production and more.
The group highlights that Amazon has faced stinging criticism about hazardous working conditions, has opposed organized labor, and demonstrates anti-competitive behavior. It runs an Ending Amazon Giveaways campaign and says online:
Amazon has gotten increasingly secretive about the money it demands and receives from communities. We oppose the use of non-disclosure agreements (NDAs) by Amazon, muzzling public officials when Amazon's Prime business model requires it to open lots of new warehouses. Instead of extracting subsidies, Amazon should provide robust community benefits in exchange for the harms caused by its arrival.
The causes Bezos wants to fund, such as climate change, will impact the world, but he could start by winning around critics of his business methods and corporate policies by being more generous to those that helped amass the fortune he now want to get kudos for donating, without seemingly realizing that charity begins at home. ®