NHS tech chief dismisses concerns over loss of statutory power to protect patient data
Outgoing CEO of NHS Digital says merger with NHS England is needed to 'provide clarity' in tech leadership
An outgoing NHS tech chief has defended the decision to merge his organization with a UK government-run unit, arguably diluting the statuary protection of patient data.
Simon Bolton, interim chief executive of the soon-to-be-defunct NHS Digital, said the merger of the organization with NHS England, a non-departmental government body, was necessary to "provide real clarity of leadership to the whole system, particularly around technology."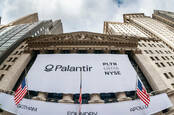 UK government set to extract hospital data to Palantir system without patient consent
READ MORE
In March, the former chairman of NHS Digital said the merger was a "grave error" in terms of its statutory power to defend patient rights.
Founded as the Health and Social Care Information Centre (HSCIC), NHS Digital received direction from NHS England, the central health service body charged with executing government NHS policy but could use its discretion to not comply with a direction not to collect data and to establish specific information systems.
The merger between the two organizations comes as NHS England (also known as NHS England and NHS Improvement) has instructed NHS Digital to gather the patient-identifiable data and load it onto a system run by spy-tech firm Palantir for the purpose of understanding and reducing the crisis in treatment waiting times. The decision could well face a legal challenge.
At the same time, NHS England is also set to procure a £360 million ($428 million) Federated Data Platform on which is set to host the shared care record that tracks individuals through the health and care system. The delayed procurement is set to kick off in the coming weeks, with Palantir hotly tipped to win the contract.
Bolton told a Westminster Forum Project conference that he did not believe the merger of NHS Digital and NHS England was a grave error. "I think it's vitally important actually. It's really the alphabet soup that we've had at the centre of the NHS. I think that has been really problematic. When I joined it did feel like a competition between NHSX [another NHS digital technology agency] and NHS Digital and NHS England. We need to bring that together and consolidate it.
"On the point around data… we need to demonstrate that we're protecting patient data at all costs because this is a question of trust. We need to make sure that as we move into a single NHS England, we've got the mechanisms in place — and we're indeed we're building those at the moment — to ensure that we do have appropriate governance to make sure that data is used properly… and we will be open about how we do that," said the former Jaguar Land Rover CIO, who is set to leave NHS England after the merger. ®