This article is more than 1 year old
World's richest man posts memes as $44b Twitter acquisition veers off course
Staff locked out as hundreds appear to say no to Musk's 'hardcore' ultimatum
Twitter chaos continued overnight as employees were locked out of its offices following reports that hundreds have chosen to opt out of the ultimatum set by CEO Elon Musk to become "extremely hardcore."
Just days since Musk appeared to ban working from home, Twitter has informed staff that the company's office buildings will be temporarily closed, according to reports.
In a missive seen by the BBC, Twitter told staff: "Effective immediately, we are temporarily closing our office buildings and all badge access will be suspended. Offices will reopen on Monday, November 21st.
"Thank you for your flexibility. Please continue to comply with company policy by refraining from discussing company information on social media, with the press or elsewhere."
The move followed the passing of a deadline set by Musk, also CEO of electric car maker Tesla and rocket company SpaceX, which required workers to opt into working long hours in an "extremely hardcore" environment. Those who failed to agree were told they would get a three-month severance package.
Hours after the 5pm Eastern Time deadline on Thursday, hundreds of Twitter employees appear to have declined the offer.
According to reports, Musk met with undecided employees who were key to operations to try to persuade them to stay. Other employees were asked to join conference calls to hear Musk's pitch. During one, a few hung up while the CEO was still talking, seemingly making the decision to leave.
Another report said roughly three-quarters of the 3,700 employees remaining after the initial round of layoffs have chosen not to stay after the "hardcore" email.
However, many still have access to their systems. One observer pointed out that at the beginning of November, Twitter had 7,400 employees. If those failing to pledge to work for Musk's new vision do leave, headcount will have shrunk by 88 percent by the end of the month.
Meanwhile, The Washington Post reported conversations with engineers who said there were six critical systems – such as "serving tweets" – that no longer had tech staff to support them. "There is no longer even a skeleton crew manning the system. It will continue to coast until it runs into something, and then it will stop," one said.
One laid-off staffer was in charge of managing the system which controls badge access to Twitter's buildings. He was called back in to help regain access to HQ by those who had locked themselves out. "Thanks for helping out. You're a lifesaver," Musk replied on Twitter.
Reports also emerged that Democratic senators have asked the Federal Trade Commission to look into whether Twitter had violated a consumer privacy agreement with the agency since Musk took over.
Musk's Twitter buyout relied on his own money and $12.5 billion lending from major banks including Morgan Stanley, Bank of America, and Barclays.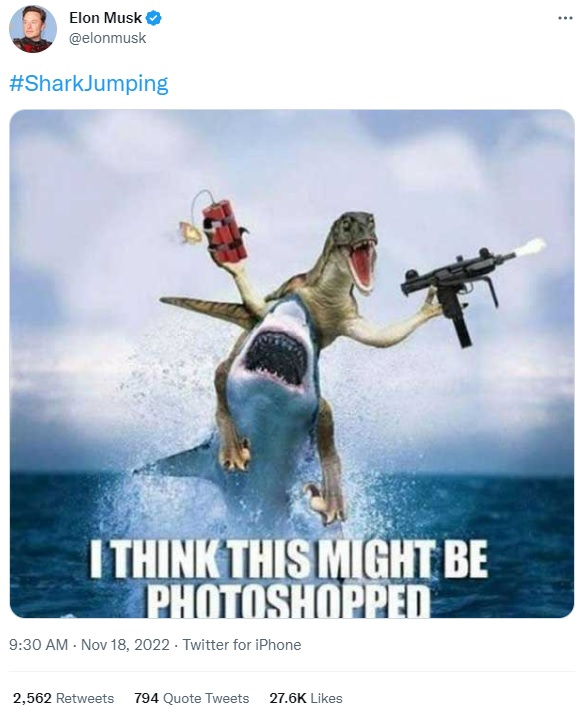 The tweet has since been deleted
Having read news of chaos within the company, those who signed off the loans can log into the website this morning to see the man in charge finding the time to post memes about Twitter burying itself and a (now-deleted) tweet making references to jumping the shark. ®