Reimagining the mining industry with Industrial Internet
How the Huawei Cloud Stack is helping Hongliulin embrace intelligent digital transformation
Advertorial Sometimes referred to as "black gold", coal has been one of the main energy sources for almost every industry worldwide since the 18th century. That's particularly true in China, which has little oil and gas but plenty of coal, making it an essential energy source.
At the same time, to push forward sustainable development, the Chinese government announced that the country's carbon dioxide emissions would peak before 2030 and carbon neutrality would be achieved by 2060. Driven by these 2030/2060 goals, coal mining companies in China have been chomping at the bit to accelerate intelligent digital transformation for green mining ever since.
The Hongliulin Coal Mine for example, a subsidiary of Shaanxi Coal and Chemical Industry Group, is a major player in the industry. The coal mine of the company is located in the Maowusu Desert between the Yulin area of Shaanxi Province and the city of Ordos in the Inner Mongolia Autonomous Region. It lies at the core of the Shenfu mining area, one of the eight largest mining areas in the world. Coal extracted here is transported by over 1500 heavy cargo trucks and six dedicated trains to plants all over China, every day.
Hongliulin's journey to intelligent transformation
In line with its parent group's strategy of tapping into technological innovation to build a world-class energy group, Hongliulin has been stepping up efforts to spearhead innovative, intelligent, and industry-leading digital coal mining. Achieving that transformation is no easy feat, so to stay focused and motivated, Hongliulin set itself three goals: intelligent collaboration, underground air quality improvement, and the cultivation of a three-dimensional green ecosystem.
To meet these targets, Hongliulin enlisted the help of the Huawei Coal Mine Team in February 2021. Their aim was to integrate next generation ICT technologies such as cloud computing, big data, and AI into coal mining, and they subsequently created a plan to transform their network, IT infrastructure, intelligent application, and integrated management frameworks. To this end, they have invested in 24 intelligent mining projects or systems, including full 4G/5G and ultra-wideband (UWB) network coverage, and the construction of industrial and Fifth Generation Fixed Network (F5G) video ring networks.
Additional upgrades have been made in cyber security protection; a modular data center; cloud computing platform deployment; an integrated management and control platform; an intelligent operation management system; a smart campus; a fully-mechanized coal mining system; and an intelligent disaster prevention system. Many of these systems have already been put into operation.
Standardization wins the day
Of all the solutions provided by Huawei to Hongliulin, the digital cloud platform powered by the Huawei Cloud Stack running over the Industrial Internet network was the most important. In the old days, Hongliulin invested heavily in digital transformation but the outcomes were disappointing due to a lack of standardization. The company deployed lots of systems for example, but their APIs were not unified. That meant much of the data generated had no unified format and could not be quickly imported, while data silos made them hard to connect. The company was plagued by these issues for a long time.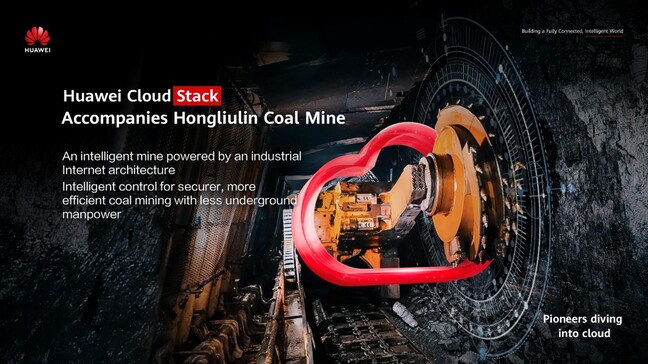 Huawei Cloud Stack accompanies Hongliulin Coal Mine - Click to enlarge
Thankfully, the Huawei Cloud Stack has helped Hongliulin unify on standard APIs, break down its data silos, consolidate its data assets, create digital twins, and improve collaboration to pave the way for intelligent mining. That turnaround utilized a number of technologies. The Huawei Cloud Stack used IoT technology from Huawei Cloud for example, which could be adapted to APIs running over different protocols from different vendors.
It could also be used in conjunction with a converged industrial network based on 5G, F5G OptiX, and an IP radio access network (IP RAN), flexibility which made it possible to connect over 2,600 Hongliulin devices.
The Huawei Cloud Stack used Huawei Cloud's ROMA Connect application and data integration platform to import data from over 35 operational technology (OT) production systems and 10+ IT support systems into a unified data lake. Central management was provided by Huawei Cloud's Fusionlnsight big data platform which enabled more than 100 million records to be imported into the data lake every day, alongside the consolidation of over 100 device and 45 system models.
Huawei Cloud's AI-powered Pangu mining model provides intelligent labeling and few-shot machine learning where the model makes predictions based on a few training examples. It covers over 1,000 mining scenarios, including the hauling, extraction, transportation, communication, drainage, and washing of coal, and helped Hongliulin reduce its development workload by 90 percent.
Huawei engineers took four months to identify Hongliulin's devices and import their data into lakes using Huawei Cloud Stack. They helped Hongliulin build what it says is China's first ever intelligent coal mine based on Industrial Internet architecture, and develop many intelligent applications such as the integrated management and control platform, intelligent ventilation, intelligent transportation, smart campus, and disaster prevention.
The end result is a robust platform for integrated management, effective decision-making, and service delivery.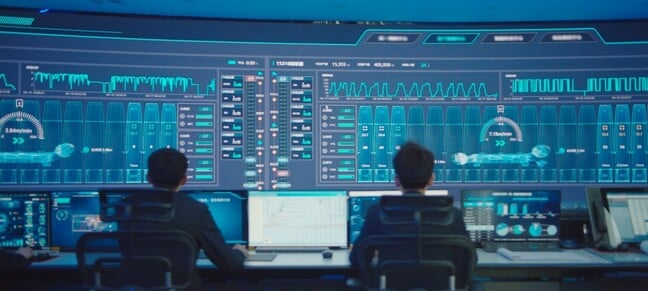 Integrated management and control platform based on the industrial Internet architecture - Click to enlarge
Improved visibility and safety down under
Hongliulin's integrated management and control platform is powered by digital twins - technology which replicates and simulates entire mining processes to predict how they will perform during data collection and analytics operations to make the entire system safer and more efficient. The simulation presents Hongliulin's 138km² coal field on a 3D dashboard, allowing operators to remotely control autonomous machinery from a room above ground instead of having to labor away in a hazardous environment beneath the surface. It gives operators meaningful visibility of the whole mining picture in a few clicks of the mouse, including how coal is extracted and conveyed to the ground and whether autonomous shearers, crushers, haul trucks, and conveyers are operating as commanded.
The digital twin also enables autonomous analytics, decision-making, and collaborative control across the different mining systems. For example, dispatchers can make remote video and voice calls to surface, and underground miners can quickly assign tasks. Prior to it being deployed, about 100 miners in three rotating shifts were required to cover busy periods of fully mechanized mining. Now, thanks to real-time monitoring and remote centralized control, over 40 percent fewer miners are needed, the underground workload has been reduced, and worker safety has been dramatically improved.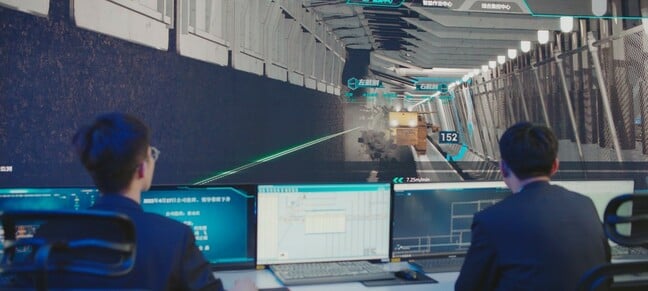 Operators remotely controlled autonomous machinery from a control room above ground - Click to enlarge
More efficient workforce management
Underground coal mining typically goes through various stages, from exploration and drivage (the building of shafts and tunnels) to extraction and transportation. Traditionally, tasks, issues, and incidents were assigned, reported, and investigated verbally or written down by staff, which was slow and inefficient. Now, Hongliulin's intelligent operation management system has digitized coal mining operations on all fronts, including the workforce, machines, materials, methods, environments, and measurements. It provides real-time operational insights and has improved worker safety.
This system allows managers to quickly dispatch tasks to workers online and uses AI to replace the manual inspection of foreign objects at specific time periods with an intelligent round-the-clock inspection program. In doing so, it reduces the time a worker typically needs to spend underground by about 2 hours, improving the overall efficiency by 30 percent.
Working with partners like Huawei Cloud, Hongliulin expects to continue spurring its intelligent digital transformation whilst reimagining the coal mining industry using the power of technology innovation.
Sponsored by Huawei.