IBM and Maersk to shut down TradeLens supply chain platform
Project with shipping giant was once floated as ideal blockchain use case – but industry didn't buy in
IBM and shipping giant Maersk have confirmed they are shutting down their blockchain-based trading platform, saying that its aim of full global industry collaboration had not been achieved.
TradeLens was launched in 2018, with the goal of digitizing and simplifying global supply chains. The system was jointly developed by IBM and Maersk's GTD Solution division as a blockchain-enabled shipping platform designed to promote more efficient and secure global trade.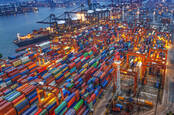 IBM struggles to sign up shipping carriers to blockchain supply chain platform – reports
READ MORE
However, Maersk has now posted a notice on its website saying the TradeLens team is taking action to withdraw the offering and discontinue the platform, which is expected to go offline by the end of Q1 2023.
It said that steps would be taken to ensure that customers do not experience disruption to their businesses during this process.
"TradeLens was founded on the bold vision to make a leap in global supply chain digitization as an open and neutral industry platform," Maersk's head of Business Platforms Rotem Hershko said in a statement.
"Unfortunately, while we successfully developed a viable platform, the need for full global industry collaboration has not been achieved," he added, saying that as a result, TradeLens had not reached the level of commercial viability necessary to continue operating and meet the financial expectations as an independent business.
TradeLens is understood to have started out as separate initiatives at Maersk and IBM, with both organizations seeking to streamline global supply chains by digitizing the exchange of information in the shipping industry.
It was intended to address problems such as inconsistent data sharing across supply chains and issues including the number of time-consuming manual processes that increase costs and delay cargoes, according to Maersk.
On the face of it, this application would seem to be a textbook case for blockchain technology, which enables a distributed ledger of records linked together using cryptography in such a way that once transactions are recorded, they cannot be altered without also changing all subsequent blocks.
A 2019 white paper from Copenhagen Business School outlined the challenges facing the shipping industry that TradeLens was aiming to address, and notes that "blockchain technology continues with proof-of-concept initiatives to attract widespread attention; however, as of 2018, very few of those initiatives had moved to real-world operating solutions, enabling them to deliver their promised business value."
According to the paper, the TradeLens revenue model was a mix of free-of-charge offerings and subscriptions, plus transaction fees, with an initial fee used for the business case calculations within Maersk and IBM of $25 per container per journey.
This is stated to be just 1 percent of the average cost of transporting one container, "hence, the potential revenue of TradeLens can be calculated by multiplying the fee by millions of container journeys," the paper stated, but adds that "within the shipping industry, charges and fees are always negotiable."
Yet it seemed the platform was having some difficulty in attracting other carriers in the shipping industry, as The Register reported at the time, perhaps because it was too closely associated with Maersk itself.
"Obviously the fact that Maersk is driving this is both a really good thing and a worrying thing because they are such a big player in the industry," IBM's head of TradeLens Marvin Erdly was quoted as saying.
We asked Maersk to clarify what it meant when it said a lack of industry collaboration had led to the decision to shut down TradeLens, but the company had not responded at the time of writing.
Maersk said in its statement that it intends to continue efforts to digitize the supply chain and increase industry innovation through other solutions to reduce trade friction and promote more global trade.
"We will leverage the work of TradeLens as a stepping stone to further push our digitization agenda and look forward to harnessing the energy and ability of our technology talent in new ways," Hershko said.
IBM declined to comment, beyond referring us to the statement issued by Maersk. ®