After lunar orbit trip NASA's Orion capsule is on its way back home
Heat shield will be put to the test for the first time, what could go wrong?
NASA's Orion capsule, designed to send the next crew of astronauts to the Moon, is heading back to Earth after spending some time in a distant retrograde orbit above the satellite's surface.
The spacecraft fired its main engine on December 1 at 1553 CST (2153 UTC) for one minute and 45 seconds, changing its velocity by about 454 feet per second, NASA confirmed on Thursday. The orbital burn is the first out of two maneuvers it has to perform to put it on the right path towards home. It has spent over 16 days in space so far and is expected to land and splashdown in the Pacific Ocean somewhere on 11 December to be recovered by the US Navy.
The second orbital burn is scheduled for 5 December when the floating capsule will be 79.2 miles from the Moon's surface. Orion carries a trusty bit of equipment leftover from NASA's Space Shuttle era, its main engine, capable of providing 6,000 pounds (over 2,721 kilograms) of thrust is a repurposed system based on the same engine that powered space shuttle flights, starting from the STS-41G in October 1984 to the STS-112 in October 2002.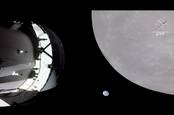 Orion reaches the Moon, buzzes surface, gets ready to orbit
READ MORE
NASA faced numerous technical difficulties getting the SLS and Orion off the ground. Originally scheduled to fly to the Moon in August, launch attempts were repeatedly scrubbed as engineers grappled with fuel leaks and hurricanes battering Florida. Orion finally made it into space on 16 November aboard the first-ever flight of NASA's heavy-launch vehicle, the Space Launch System.
The Artemis I mission allows ground control to test the rocket's flight capabilities as well as Orion's navigational abilities and heat shield. The heat shield was built by Lockheed Martin and is a crucial component to protecting future space travelers. As the Orion capsule whizzes back towards Earth, its heat shield will reach 5,000 degrees Fahrenheit (2760 degrees Celsius). The heat shield stops it from disintegrating so the capsule can land back on terra firma and hopefully bring astronauts back home safely.
"The first launch of the Space Launch System rocket was simply eye-watering," Artemis mission manager Mike Sarafin said in a media briefing this week, Space.com reported. "While our mission with Orion is still underway and we continue to learn over the course of our flight, the rocket's systems performed as designed and as expected in every case," he added.
The second Artemis mission will send a team of astronauts inside the Orion capsule to spend a short while in lunar orbit, before the third Artemis mission will actually land a crew on the surface of the Moon planned for 2025. ®