Amazon, Games Workshop announce Warhammer 40k film deal
In the grim darkness of the far future there is only Bezos. Oh, and Henry Cavill
Amazon has reached into the Warp and pulled out an "agreement in principle" with Warhammer maker Games Workshop (GW) that would give it film, television and merchandising rights to the company's sci-fi Warhammer 40,000 franchise. 
It also found recently projectless actor Henry Cavill in there, who has signed on to star and executive produce a new series based in the "grimdark" universe.
Games Workshop made clear it hadn't formally entered into a contract with the Bezos-founded megacorp, but had only "reached agreement on material commercial terms" that were wholly dependent on contract negotiations, which GW said the parties are working towards.
That doesn't mean there will necessarily be a long wait until we can expect the grim darkness of the far future to reach our screens. "In advance of contracts being entered into, Amazon will be commencing certain development activities (such as holding preliminary discussions with writers) in order to facilitate the project," Games Workshop said. 
The only sign of what will come from the partnership is GW's statement that it initially intends to grant rights to just the Warhammer 40k universe, leaving the path open for a future trip to the Old World, too. 
For those unfamiliar with the world of Warhammer 40,000, it takes place in, unsurprisingly, the 41st millennium, far into the distant future of our world. Human civilization has stagnated into an unending dark age, and is beset on all sides by hostile aliens and Warhammer's perennial baddies, the Chaos Gods.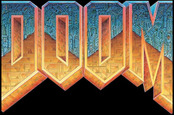 Fragged, fragged and thrice fragged! 20 years of id Software's Doom
READ MORE
Warhammer, both the original fantasy variant and the futuristic 40k setting, is a tabletop war game in which players paint miniatures of their chosen armies and engage in battles. The franchises have also spawned plenty of video games, novelizations and other media, and Games Workshop has been notoriously protective of its IPs over the years.
Warhammer 40k last graced the screen in 2010 with a CG movie about the Ultramarines chapter of 40k's iconic Space Marine characters.
God-Emperor Cavill?
Actor Henry Cavill, known for film roles including Superman and titular character Geralt in the Netflix adaptation of Andrzej Sapkowski's Witcher book series, has plenty of geek cred – including nearly missing out on being cast as Superman because he missed a phone call while raiding in World of Warcraft – and the actor is also a well-known Warhammer enthusiast, having posted many of his mini painting projects on social media.
Cavill is departing The Witcher after the upcoming third season, and the actor recently announced he wouldn't be returning to the Superman franchise either. With time on his hands, he says he's ready to jump into the Warhammer universe, which he's loved since he was a boy.
"I couldn't be more grateful for all the hard work put in by Vertigo [Entertainment], Amazon Studios and Games Workshop to make this happen. One step closer to making a nigh on lifelong dream come true," Cavill said.
Vertigo Entertainment partnered with Cavill "to secure the coveted IP and deliver it to Amazon Studios," and will also serve as an executive producer. "The opportunity to shepherd this cinematic universe from its inception is quite the honour and the responsibility," Cavill said.
Cavill had originally signed on for seven seasons of The Witcher and expressed excitement at the project, saying: "As long as we can keep telling great stories which honor Sapkowski's work," he was willing to keep making the series.
Rumors of dissatisfaction at the course of Netflix's adaptation have swirled around Cavill's departure, which makes his executive producer credit on Amazon's Warhammer project and statement of "shepherding" the franchise all the more interesting.
The role Cavill will take on screen remains unknown – The Emperor of Man, perhaps? Then again, if he wants to get back to his monster hunting roots, Cavill would be sure to find some excitement slinging a bolter in the depths of one of Necromunda's mutant-plagued hive cities. ®