British Airways flights grounded due to glitch in flight planning app
Flight computers down for 2 hours worldwide 'and no BA plane can file a flight plan? Seems not ideal'
British Airways flights have been grounded into Tuesday morning due to issues with flight planning software that caused aircraft to be held on the tarmac instead of being able to take off as scheduled.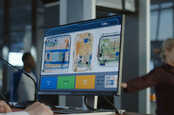 CT scanning tech could put an end to 100ml liquid limit on flights by 2024
READ MORE
According to reports, overnight flights including some from the US were delayed for hours because of technical difficulties with flight planning. The problem has now been resolved, but it has resulted in delays to scheduled flights for which BA has issued an apology.
"Our teams have now resolved a temporary issue that affected some of our long-haul flight planning systems overnight, which resulted in delays to our schedule. We're sorry for the disruption caused to our customers' travel plans," the airline said in a statement sent to The Register.
According to Bloomberg, the problem stemmed from software that BA pilots access via Apple iPads, and said the system was in the process of being upgraded, citing "people familiar with the matter" who asked not to be identified.
Flight tracking website Flightradar24 tweeted: "Only about ~50 percent of scheduled flights are in the air (compared to same time last week), but flights across the system are now departing."
BA said that the majority of short-haul flights were unaffected by the issue, and was keen to point out that it was not a safety issue or technical fault with any of its aircraft.
BBC News reported that passengers were stuck waiting for several hours in airports such as John F Kennedy International, with flights eventually departing after long delays. Others claimed their flight had been sitting on the runway for hours before being moved back to the airport terminal.
One customer took to Twitter to share that the captain of their flight had informed them that "flight computers have been down for two hours worldwide and no BA plane can file a flight plan? Seems not ideal. Anyway just chillin' on the tarmac here at JFK, being cool."
British Airways is part of International Airlines Group (IAG), a holding company that also controls Spain's Iberia and Ireland's Aer Lingus.
Back in September, Aer Lingus had its own technical problems affecting flights when damage to a fiber optic cable combined with a hardware failure on an IT contractor's backup knocked out the airline's passenger processing system, causing it to cancel more than 50 flights. That contractor was Kyndryl, the former IT services division of IBM. ®