Larry Ellison mea culpa as traffic cop stops Big Red boss on own island
Maybe pursuit of health and wellness requires driving fast in an orange Corvette
What's the point of owning an island if you don't get to make the rules? That's the question Larry Ellison must be asking himself after he was apparently pulled over for running a stop sign and speeding on Lanai, the Hawaiian island he bought 98 percent of for $300 million in 2012.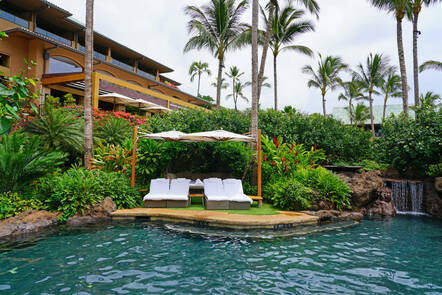 Oracle billionaire Larry Ellison's ultra-luxe retreat, Four Seasons, on the island of Lanai, Hawaii, 15km off the coast of Maui
Police body cam footage from an island cop shows the Oracle founder and CTO cooperating with the officer after the traffic stop last October.
After signalling for Ellison's orange Corvette to halt, the public servant pointed out the driver "ran through the stop sign" and was "kind of speeding there."
"If I was, I'm sorry," Ellison replied, according to a transcript from Hawaii News Now, which has (geo-restricted) footage that blocks out the driver's face.
Asked for the reason for such urgency, the bronzed billionaire was heard responding that he was "trying to get home for dinner with my kids, but there's no excuse. There's no good excuse."
Maui County Councilman Gabe Johnson, who represents and lives on Lanai, praised the police officer's work in the news outlet, saying it was not easy to challenge such a powerful individual.
He also complained that Ellison had a track record of annoying the local community. The official alleged Ellison's company had locked a gate that blocked local access to Hulopoe Beach Park, near his Four Seasons resort. The gate was locked for 12 days until residents demanded it be open, he said.
Still, perhaps such transgressions might be overlooked in view of the grander vision Ellison is aiming to bring to life in the tiny Pacific land mass.
In 2020, the database botherer enjoyed Forbes's unquestioning exposure in which David Agus, a cancer doctor and co-founder of Ellison's wellness project Sensei, claimed the big tech boss was turning Lanai into a "laboratory for health and wellness powered by data."
Forbes said the island had become his petri dish of experimentation on health, wellness and sustainability, with data collection and feedback loops underpinning the entire operation. "It's a bit of a laboratory for advanced technology," Ellison is reported as saying.
At least its occupants can be assured that the long arm of the law is functioning on Ellison's far-flung haven. ®